Decided to do a case of this over the regular, hoping that more expensive in this instance meant more loaded for the first run, and less base to sort. Did get 1 extra hit, in the last box (the plate). Was able to put together a master set (base, red and black parallel sets, both insert sets), along with 3 other base sets and a couple extra insert sets. Amazingly good collation for a Topps product
Printing Plate:
Lucky Germs Yellow 1/1
Artist Auto:
Smokin Joe - Dungeon Donuts 3/15
Commercial Star Autos:
Jimmy Nelson - Ventriloquist from Nestle
John Gilchrist - Mikey, Life cereal
Wendy Kaufman - Snapple Lady
Sketch Card:
Coca Collar - Brent Engstrom
Shaped Artist Sketch (die-cut, little more rare to get):
Grave Poupon - I believe it's Mark Pingatore
Gold Parallels:
10 B.O. Shock EW
11 Dungeon Donuts
Ludlow Black Back:
10 B.O. Shock EW
11 Dungeon Donuts (see the pattern? lol)
12 Petsi
36 Crawley Rancher
50 Mimecraft
55 Snakers
Ludlow Red Back (1 per case):
39 Klepto Bismol
Insert Cloth Cards (Each are 1:108 packs, so about 1.5 cases)
9 Pet Ridder As Screamed On TV
Lost Wacky (1 per case):
L3 Shebad
Bonus Stickers (1 per hobby box):
B7 Clubbed
B8 Blue Bombit
B9 Done
B12 5 Hour Anarchy
B13 The Woman With The Draggin Tattoo
B14 Rice A Romney
Base Cloth Cards (Supposed to be 4 per case):
11 Dungeon Donuts
13 Peter Pawn
23 Fiber Won
31 Allmud Joy
39 Klepto Bismol
Some of the names just crack me up! Here's some scans of the better cards: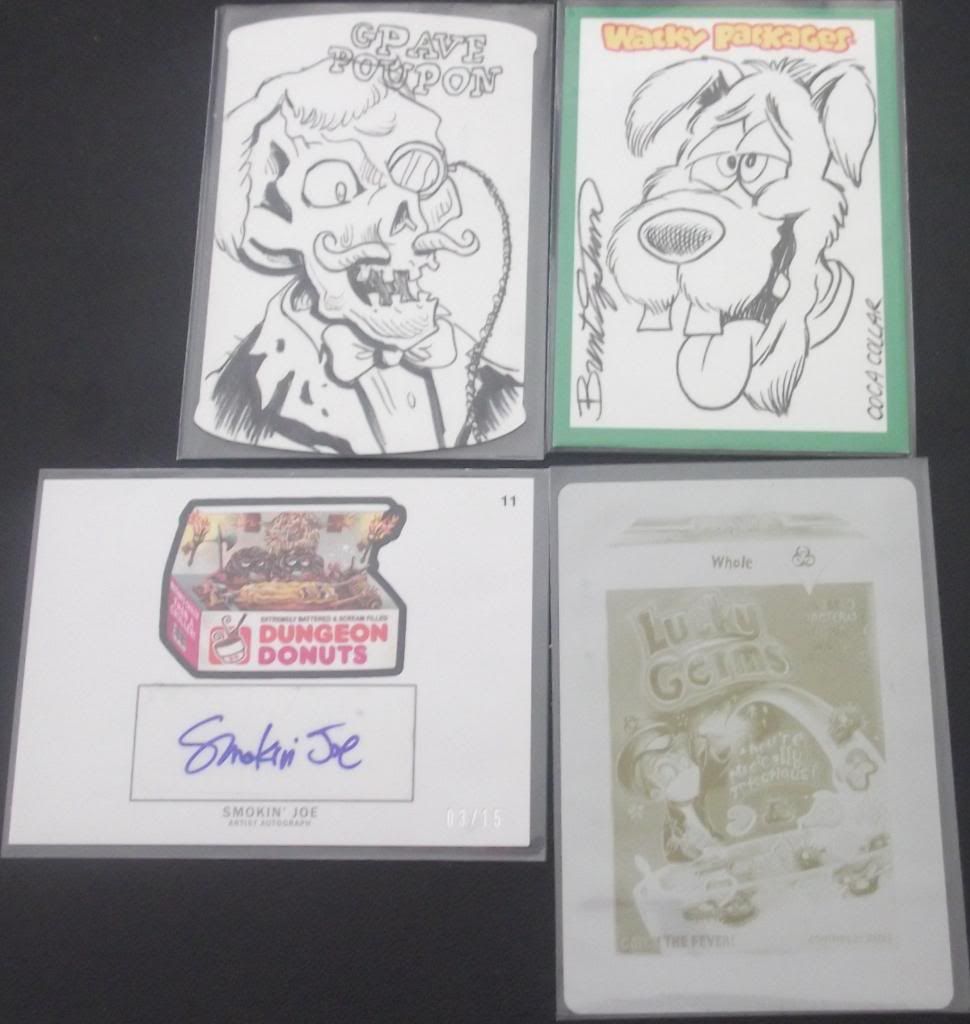 Not sure about pricing yet, might have to wait until some start hitting Ebay to figure out values. All odds are from the hobby wrappers, heard retail odds are much harder, at least on the sketches and autos.
Thanks for looking,
Tyler