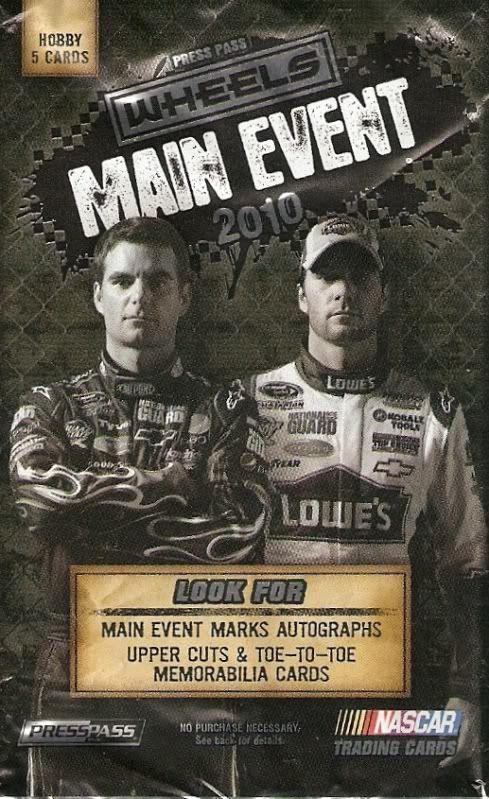 CONTENT HIGHLIGHTS:
Look for (2) Memorabilia Cards and (1) Autograph Card per box!!
PRODUCT HIGHLIGHTS:
Autographs: 1:20 packs
- Main Event Marks Autograph Cards
- Main Event Matchups
Race-Used Memorabilia: 2 Per Hobby Box
- Upper Cuts
- Head to Head
- Toe to Toe
- Wheel to Wheel
Base Set & Inserts:
- Base Set (91 Cards)
- American Muscle (1:6)
- Tale of the Tape (1:8)
- Fight Card (1:1)
Here's what we pulled in our box of 2010 Wheels Main Event
Base Cards
There are 100 cards in the base set this year, broken down into a number of subsets, although #90-100 are short-printed so you can only expect one per box. The regular base Cards are the "Main Event" of the box and contain subsets of cars and drivers. Cards 1-36 are the NSCS Drivers; Cards 37-45 are "Ready to Rumble Cards"; Cards 46-54 are the "Ringside Seats" subset; Cards 55-63 are the "Speedway Superstar" subset; Cards 64-69 are the "Main Event Matchups" subset; 70-75 are the "Prize Fighters" subset; 76-81 is "An Underdog's Story;" 82-91 is "Undercard Clash" and 92-100 are the Short Print Variations. Since there are 100 total cards in the box, set collectors will come up a bit short in trying to collect the total set through one hobby box. We pulled 70 of the 100 for the set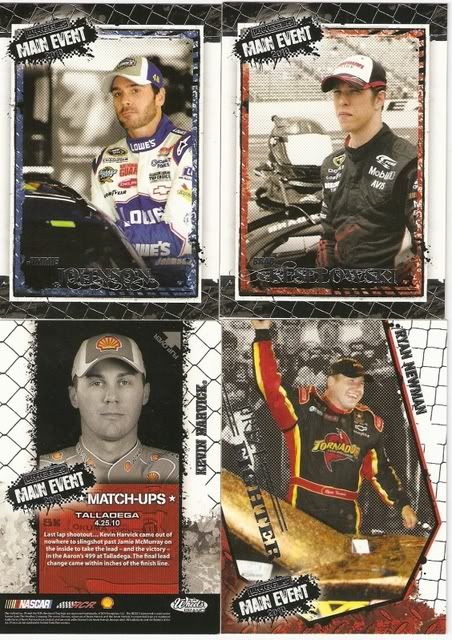 The Variations Cards are simply short printed versions of the regular NSCS Contenders.
Inserts
Main Event has only a few insert cards but all have a very nice look.
Each pack contains a mini-card and there are 25 total in the set, with the face of each driver.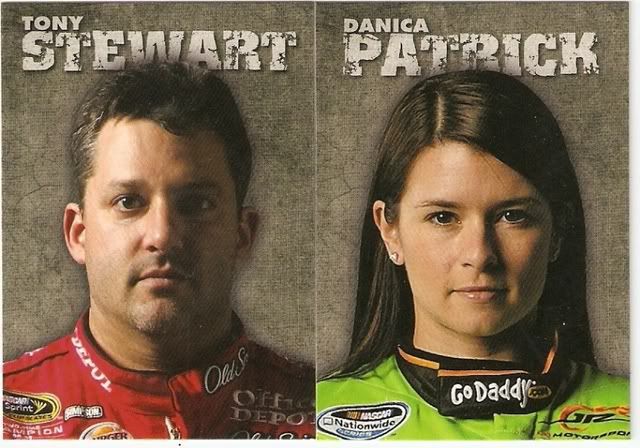 The American Muscle Inserts fall 1:6 packs and have very cool car shots, with 12 total in the set.
The Tale of the Tape inserts are holofoil with 9 total cards in the set cards in the set and show the key stats for the driver, in the same way that Boxing Matches show the Tale of the Tape before the fight begins. These come in 1:8 packs.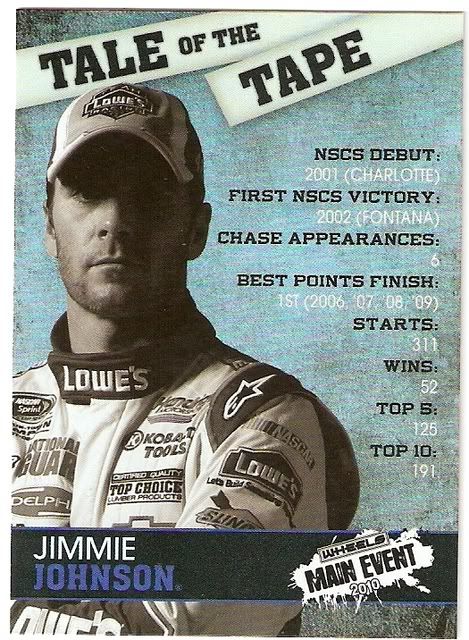 Each box also brings 1:14 History of Nascar Hall of Fame insert, as expected throughout the Press Pass products this year (1 per Hobby Box).
http://i103.photobucket.com/albums/m...x/scan0010.jpg
Race Used Cards
Each box contains 2 race used cards, usually either head-to-head, toe-to-toe or wheel-to wheel. Our box brought 2 great cards. We pulled a Kevin Harvick Pit Stacker numbered 05/10 and a Jimmie Johnson/Jeff Gordon Wheel to Wheel dual Tire card numbered 30/50. There are different levels for each of the memorabilia cards, as well as dual memorabilia feat cards and key driver matchups.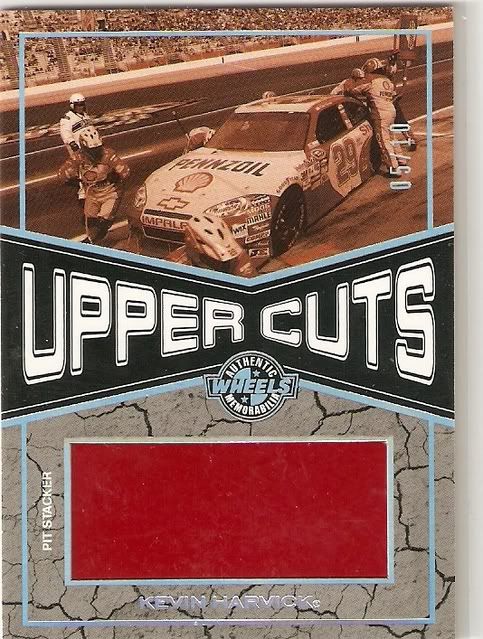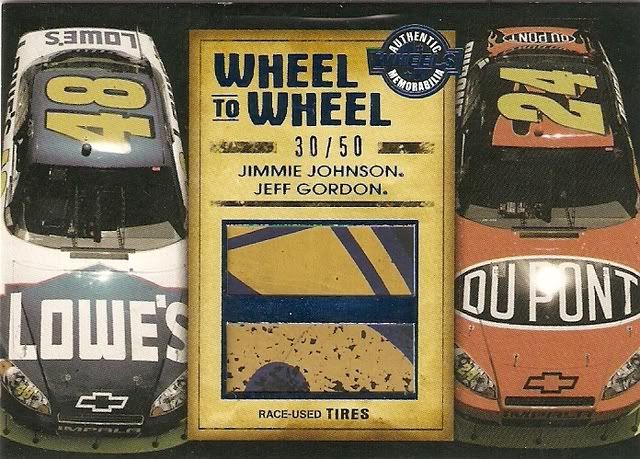 Autograph Cards
Each box brings one autograph card, and we pulled a brad keselowski auto numbered 64/91. It's a great looking on card autograph which rounded out the box nicely. Other autograph possibilities include Main Event Marks with 4 autograph card levels to collect plus hobby-exclusive Main Event Matchups with dual autos (#d to 10 or less).
Final Thoughts on 2010 Wheels Main Event
This product brought great value this year. The Main Event idea was a good one. The boxes sell for about $67-75 and contain plenty of great possibilities for hits, so there's great value here. All of our hits were great and brought superior value in my opinion, which just make us want to buy more!
Here's how I would rate this product;
•Value = 5
•Innovation = 5
•Fun and Experience = 5
•Rebuy Value = 5
I rate this product an "A+" for Press Pass!
NPN Information;
NPN MAIN EVENT 2010
9115 Harris Corners Parkway, Suite 200
Charlotte, NC 28269
It must be postmarked by 12/8/10 and received by 12/15/10
I would like to thank Press Pass along with CardCollectorsWorld for giving me the chance to review this new product
Support the sponsors that support community.cardboardconnection.com