Here's another installment of my favorite SLU's, this time Basketball. Basketball is my favorite sport so it really hard to narrow it down like I did in Baseball and Football. Here are my top 15 Basketball SLU's that I own.
#15
1996 USA Basketball Set 2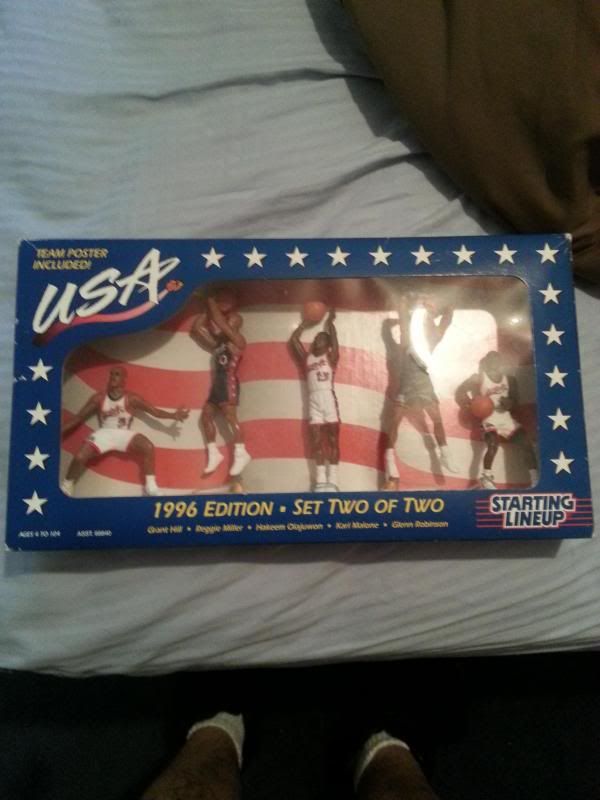 This is on here for a couple of reasons. 1) It helped really helped me transition from a casual collector to a hardcore collector and 2) I love multi-player sets and what's better than a set featuring the greatest collection of talent in that era? I wish it would've been a 10 piece set like the 92 was, but that's what made the chase fun. To me, Set 2 was the easier to find of the two. Grant Hill, Reggie Miller, Hakeem Olajuwon, Karl Malone, and Glenn Robinson comprise set 2. It's a little beat up, but I've had it since 96. One of the few originals I kept from my original collection.
#14
1995 Grant Hill FP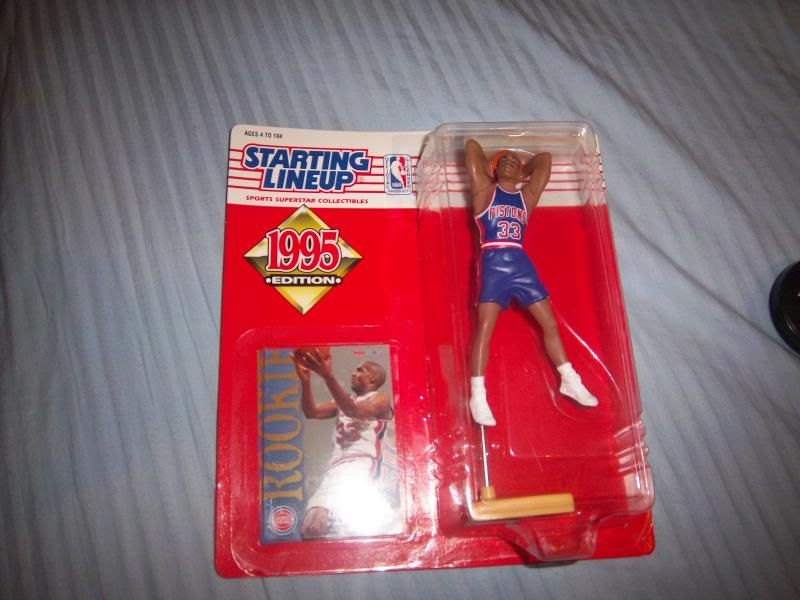 I just recently acquired this, but it already makes my list because it was one I wanted really bad while growing up. Like I said at the time I would've even settled for the K-Mart Sticker version!
#13
1996 USA Basketball Set 1
Yes, the other half of "Dream Team III". To me this was the "loaded" set of the two only because it had Penny and Shaq. Here in Corpus, it took a while before I found it to complement set 2. John Stockton, Scottie Pippen, and David Robinson round of the rest of the 5.
#12
1992 Michael Jordan (Warm Ups)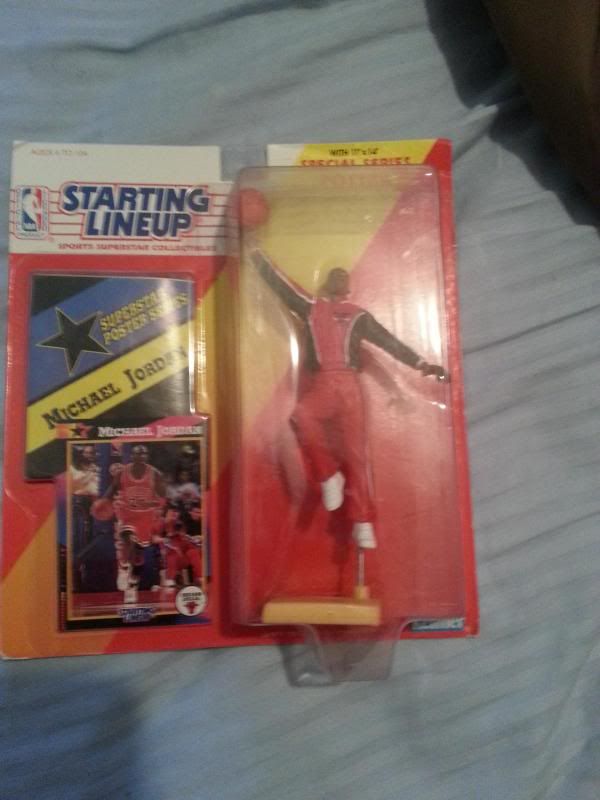 This was a post collection purchase. During my original SLU run, MJ SLU's were a hot commodity and most were "out of my league". As SLU's died out I was able to pick this up on the cheap. There's also a dribbling MJ version in the 92 set.
#11
1994 Anfernee Hardaway FP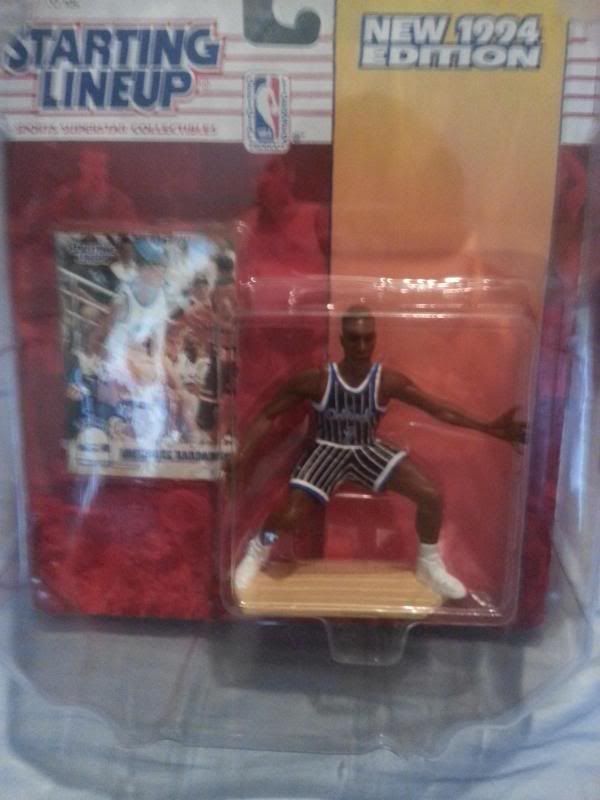 Remember buying this at a San Antonio card show in 1999. The rookie piece of my favorite player growing up.
#10
1989 Julius Erving Legends Collection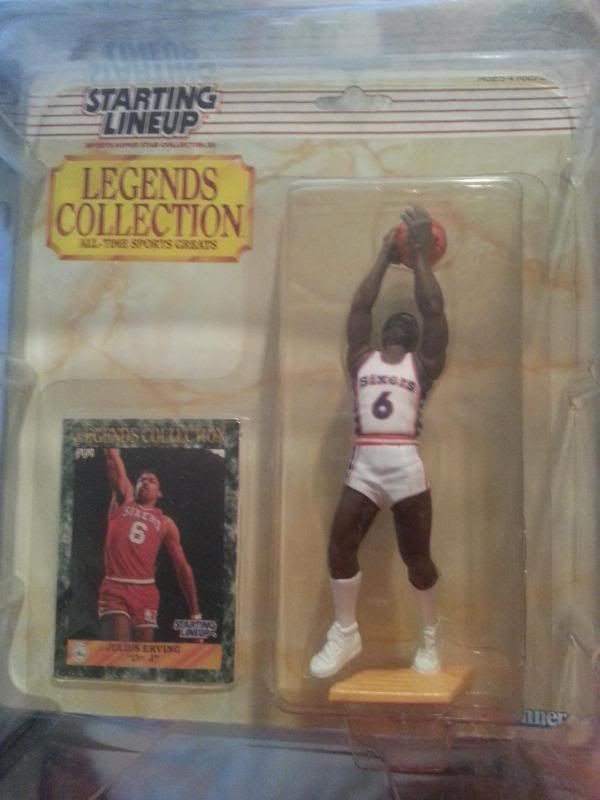 Just like in Baseball, I love the older series that were issued of Hall of Famers. This Dr. J was part of the multi-sport Legends Collection. This was another post collection purchase and it only cost me like 6 bucks combined with a Michael Jordan Mattel piece.
#9
1991 Michael Jordan Jumping
See that $50 price tag? That's how much I paid for it back in 1998. This is on here because it's the most I ever spent on one Starting Lineup during my collecting days, and it was my first unopened MJ figure. I made a post about this sometime last year as it was a Flea Market purchase. It was my pride and joy. I actually had the 91 shooting version when it first came out, but I was like 7 years old and I opened and played with it.
#8
1990 Michael Jordan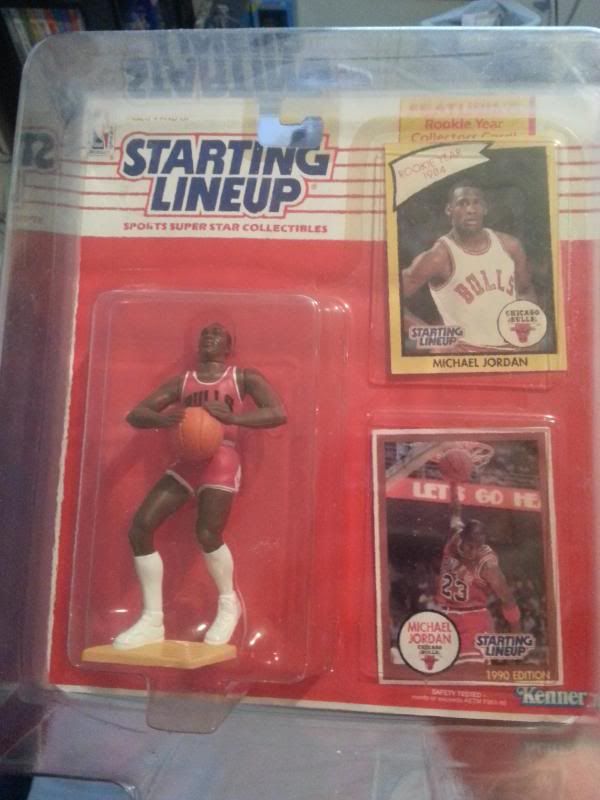 Yes, the countdown is MJ heavy. It's why I had to expand the list to 15. Here's a 2nd piece of MJ that's in really good shape. Another post collection purchase, as I was able to buy MJ figures at very reasonable prices.
#7
1997 Tim Duncan Extended FP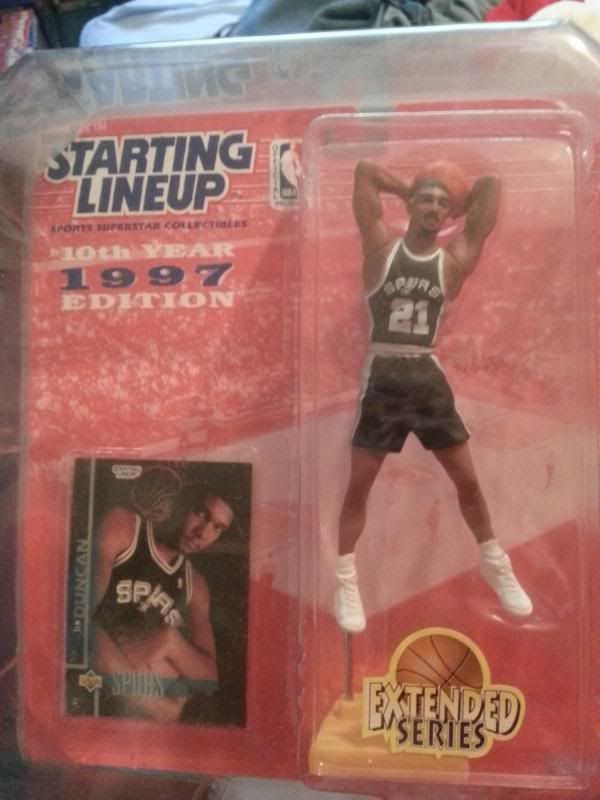 Ohhhhh did I want this BAD. I salivated at the thought of owning Tim Duncan's rookie piece. Of course living in South Texas, I'd never find it in a retail store. I did however buy it at a local card show for $25, which I thought was a heck of a deal at the time. Basically the last sought after Basketball rookie piece as Hasbro would exit the Basketball figure market the following year.
#6
1993 Shaquille O'Neal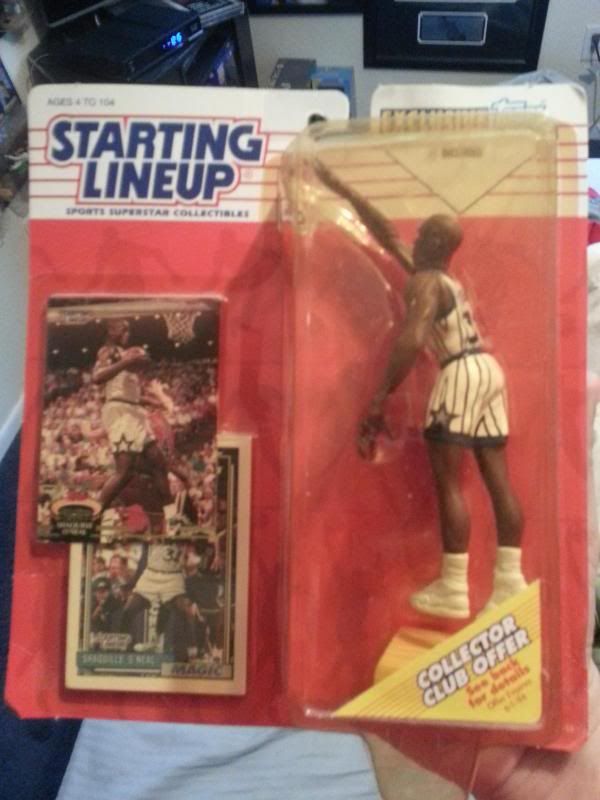 The 93 basketball set is so iconic. Not only does it feature the final MJ piece ever made, but the debut of one of the most dominant forces ever to play the game. Anything Shaq was hot and this was no exception. I never owned it during my initial run as it was just way to expensive for me. I finally picked up a cheap (albeit beat up) one years later just to have the satisfaction of owning it.
#5
1992 Dream Team Set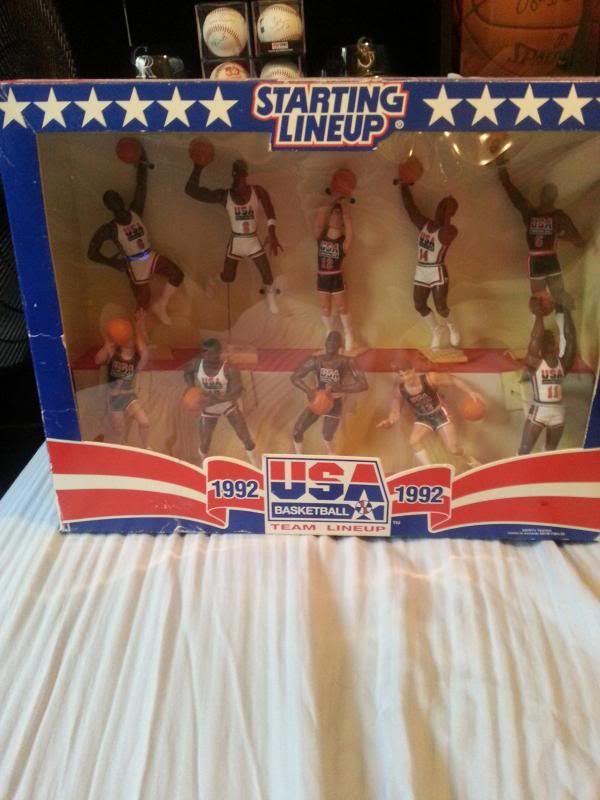 You couldn't GIVE THESE AWAY when they initially came out. In fact, I remember Wal Mart put these on clearance and they still weren't selling. I was just a kid, and the set price was too rich for my blood. When SLU's started really picking up, this set became sought after and why not? a 10 piece set of the greatest team ever assembled? MJ, Magic, Larry, Pippen, Ewing, Robinson, Malone, Stockton, Mullin, and Barkley! Another piece I bought years after the fact. It's pretty beat, but it's still one of the greatest sets in SLU history.
#4
1993 Michael Jordan (Final Piece)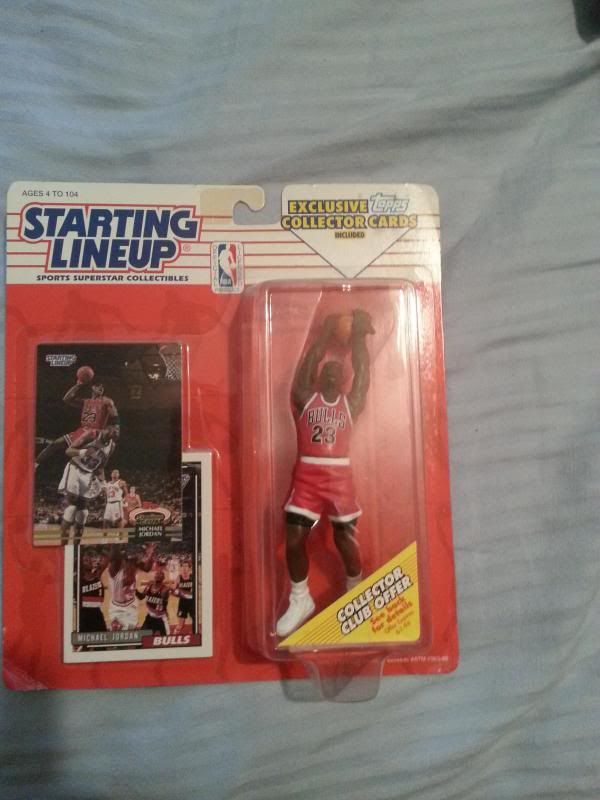 I remember for years this was the MJ piece to own. His final Starting Lineup figure ever created and so early in the Starting Lineup run. From 94-98 there was no MJ to be found. This was a scorching hot figure back in the day. In fact, I remember my cousin paying over $100 for this figure at the same card show I bought my Penny. Me? I waited till the market crashed and paid like 10-15 for it don't exactly remember. Definitely a must have for any basketball SLU fan.
#3
1996 Kobe Bryant Extended FP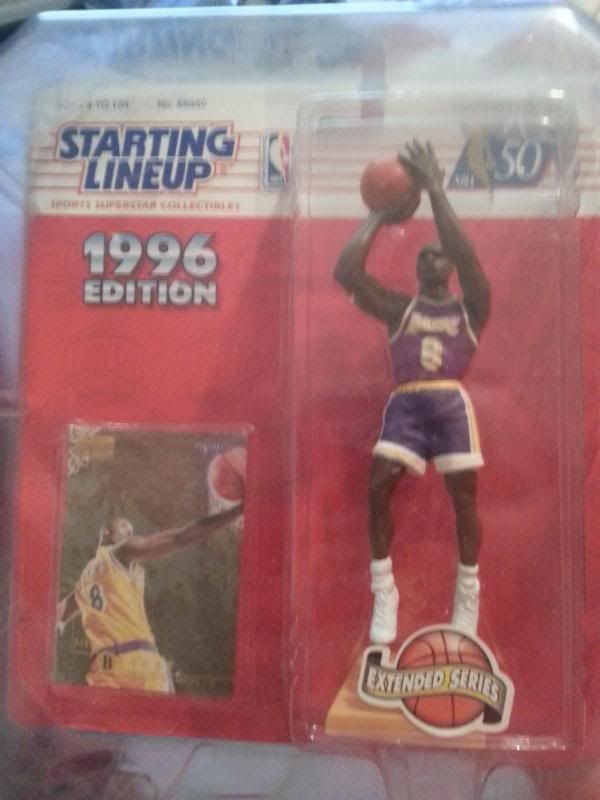 Definitely my favorite modern day first piece of all time. It was gamble putting a young Kobe Bryant, who didn't exactly have a great start to his NBA career, in the inaugural extended set but it paid off big time. It ended up being the most coveted piece of the set and one of the most coveted basketball pieces by far. Never could afford it initially, just like many others on this list, I got this on the cheap not too long ago.
#2
1988 Michael Jordan FP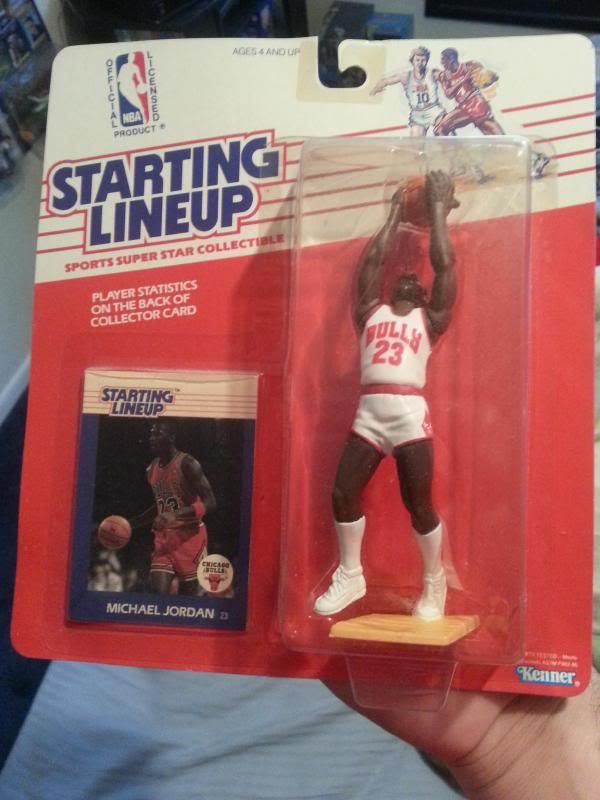 I know it's not even close to being hard to find compared to regional issues of the 88 series, but it is what it is...it's Michael Jordan's rookie piece. The 86 Fleer of the SLU's so to speak. I feel like this is in pretty damn good shape for being so old. Another "must have" in the hey day of SLU's, I got this for $15 and proudly added to it my collection.
#1
1996 Collector's Club Shaquille O'Neal/Wilt Chamberlain/Kareem Abdul Jabbar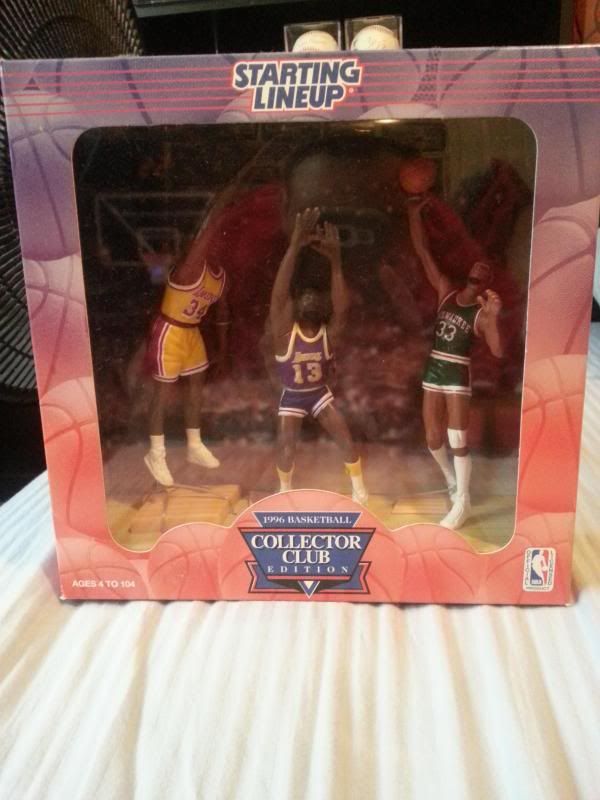 This was tough as really the last 4 there's not too much separation on how much I like them. At the end though, a Collector's Club Exclusive featuring 3 of the best centers of all time takes the cake. How can you go wrong with Shaq, Wilt, and Kareem. It's funny they didn't picture Kareem in his Lakers uniform to fit in with Shaq and Wilt, but I honestly think that's even cooler to be representing the Bucks. It might not be worth too much, but that's OK with me, the combo is just magnificent.
That'll wrap up this edition of my favorite SLU's. Still have two more countdowns to go, one with my Cowboys, and one with my Griffey's. Those will be done at a later date!
More...