Hello Everybody,
I thought I'd show off some of my recent Action Figures that I've picked up over the past few weeks. None of these are FT/FS. Strictly PC.
Thanks,
Brad
Well I noticed some figures from one of my favorite War movies of all time (Platoon) and had to buy all 4 of them. Here is one of the figures scanned up (yes, those are inter-changable body parts
)...
1. Charlie Sheen as PVT. CHRIS TAYLOR
2. Willem Dafoe as SGT. ELIAS GRODIN
3. Tom Berenger as SGT. BOB BARNES
4. Johnny Depp as PVT. GATOR LERNER
These figures are totally decked out with Cantine, Medical Kit, 2 Grenades, Knife, Rifle, Flashlight, Binoculars, and a Pistol w/ Case. On top of that they have a Back-Pack, Helmet, and two sets of swappable legs and arms for poses and holding different weaponry!
I also just made a trade for these 3 Vintage Star Wars figures for the small price of a few inserts and rookies....
Chewbacca
Momaw Nadon (Hammerhead)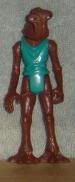 Tusken Raider

On the weekend premiere of G.I. Joe Rise of the Cobra I stopped by the new Target and searched the pegs through 500 figures for the StormShadow and/or Snakeyes. Well on the very last peg (go figure) there they were...
Snakeyes
Stormshadow
Thanks for stopping by and checking out part of my collection! Until next time....
Mahalo and Aloha,
Brad