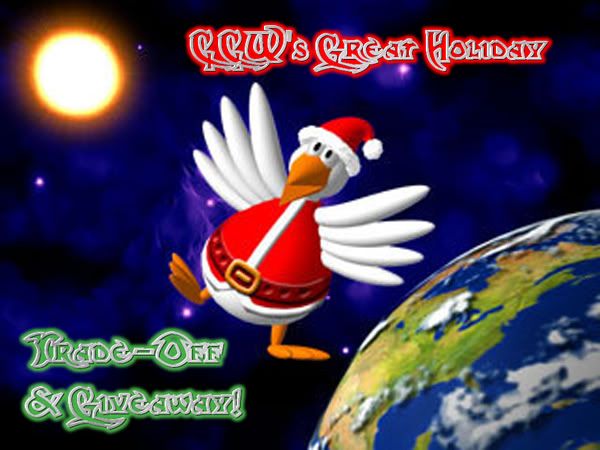 Here's a link to the original contest
http://community.cardboardconnection...ad.php?t=24581
The Top 12 members names on this list are the winner after this was randomized. Congrats you 12!

After all 12 of you selected up to your favorite 3 sports I randomized the CCW Prize Vault to determine your prizes.
After I randomized the sports you chose, the top card is then your selected prize. Congrats everybody!
RONPAGE69 - Requested Basketball or Football
07-08 SPx Winning Materials Triple Joe Johnson/Marvin Williams/Josh Smith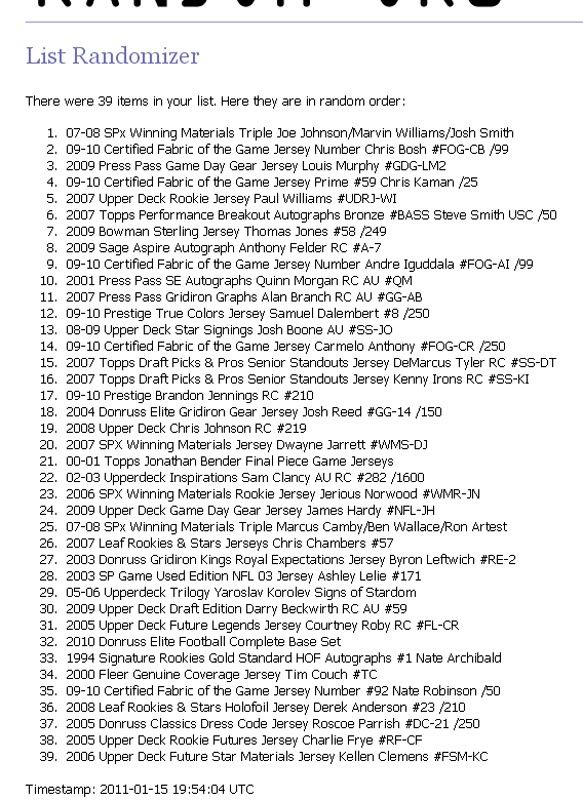 BLUE&GOLDROBBO - Requested Football
2004 Sage Hit Authentic Jersey Reggie Williams RC #JRE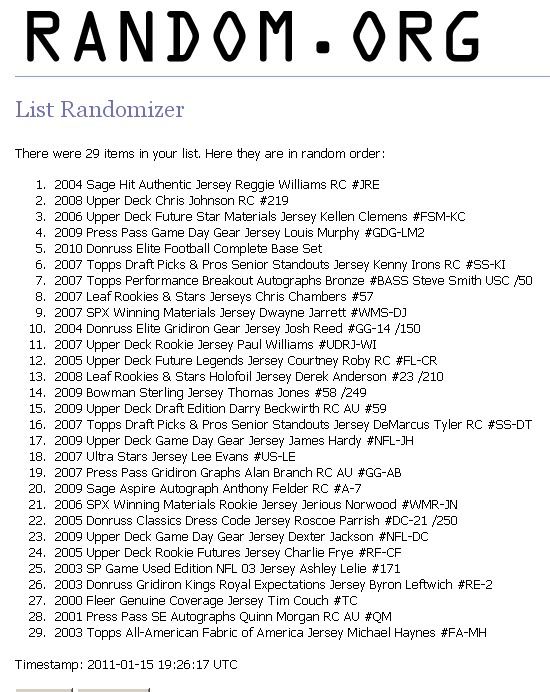 BROCK0989 - Requested Baseball, Football, or Wrestling
2003 Topps All-American Fabric of America Jersey Michael Haynes #FA-MH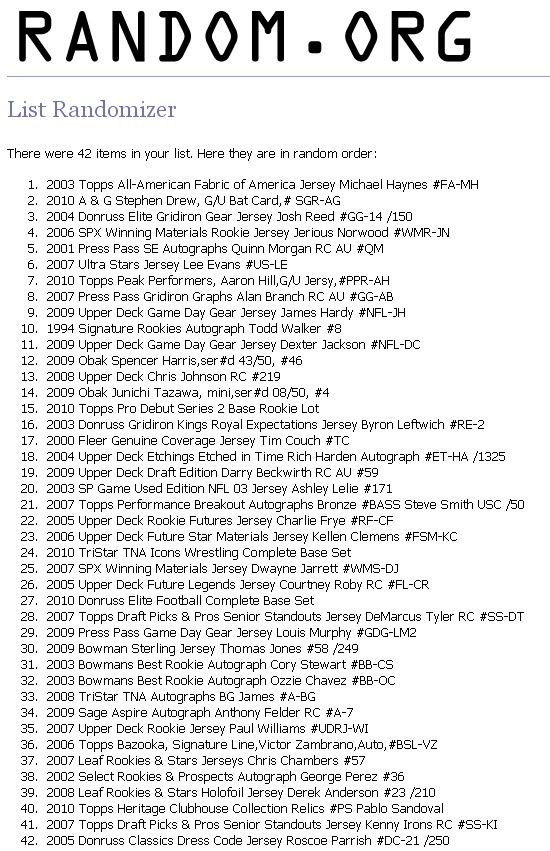 MILLO67 - Requested Football, Basketball, or Baseball
2009 Obak Spencer Harris,ser#d 43/50, #46
ORIOLESFAN - Requested Baseball
2003 Bowmans Best Rookie Autograph Cory Stewart #BB-CS
CORNWELLFAMILY - Requeseted Baseball, Football, or Basketball
09-10 Certified Fabric of the Game Jersey Nene Hiliario #FOG-N /250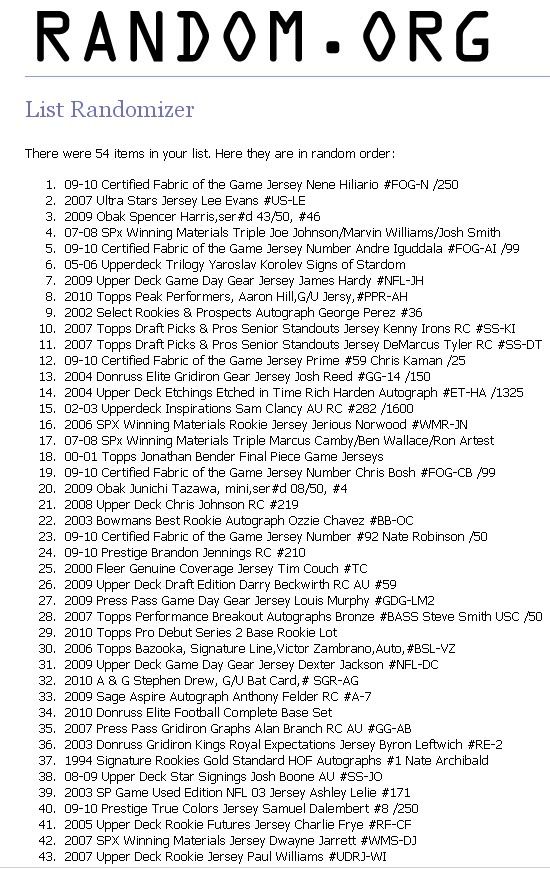 GLADDYONTHERISE - Requested Football, Baseball, or Wrestling
2009 Upper Deck Game Day Gear Jersey Dexter Jackson #NFL-DC
KEVALAN - Requested Wrestling, Nascar, or Baseball
2008 Press Pass Authentic Legends Autograph Pete Hamilton #PH /945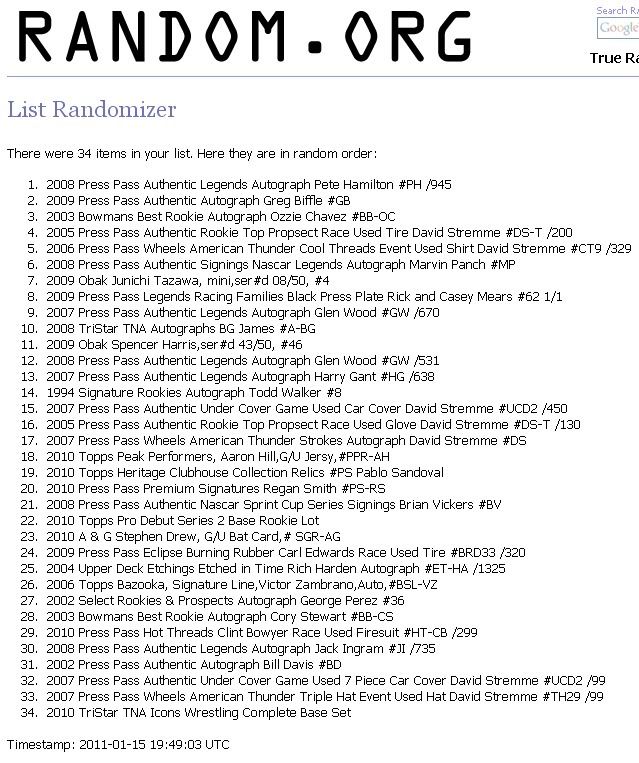 TYLERG30 - Requested Nascar, Football, or Baseball
2002 Press Pass Authentic Autograph Bill Davis #BD
FUSER - Requested Any Sport
2007 Ultra Stars Jersey Lee Evans #US-LE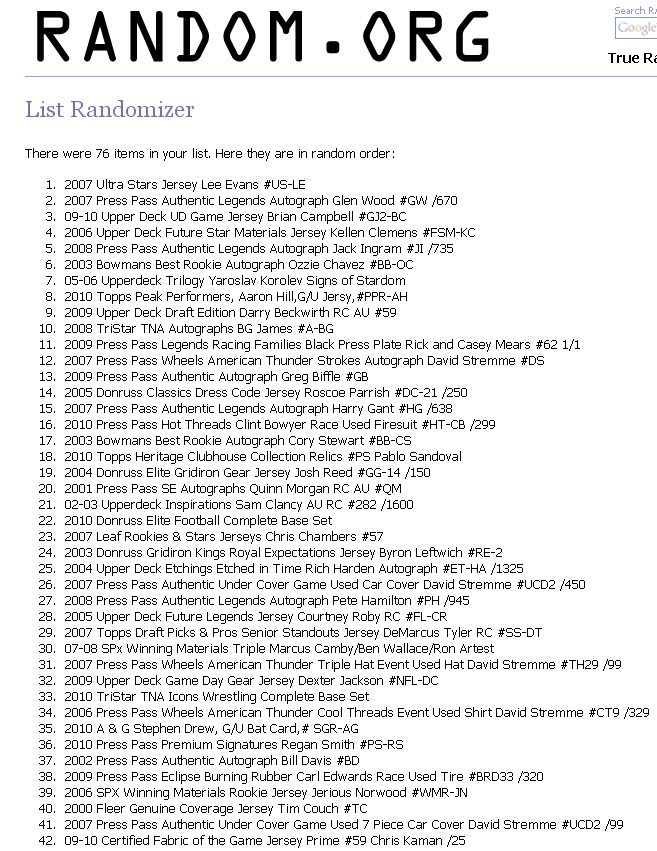 BLACKGOOSE - Requested Hockey, Baseball, or Basketball
06-07 Fleer Throwbacks Jersey Renaldo Balkman #T-BA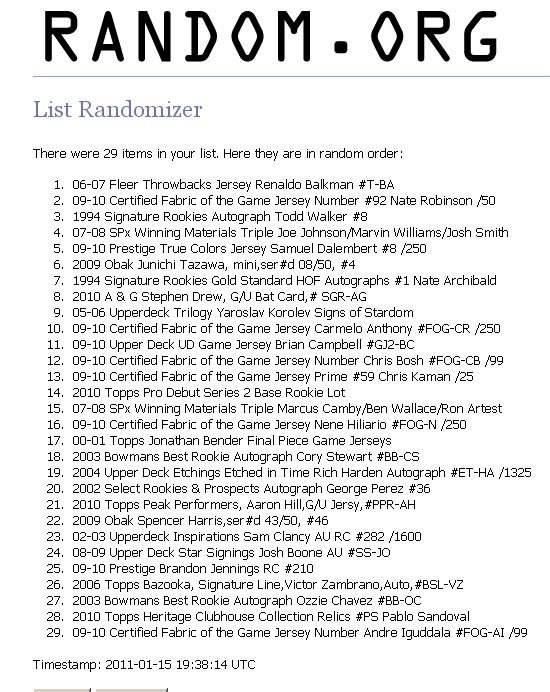 JSAB4807 - Requested Nascar
2007 Press Pass Authentic Corporate Cuts Event Used Shirt David Stremme #CCD7 /99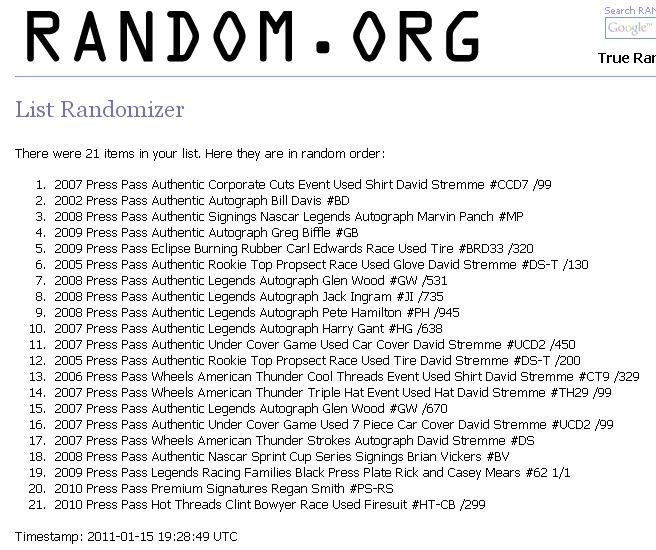 Now that everybodys prizes have been selected, please pm me your addy's so I can get the Prizes out soon.
Thanks for playing everybody!
Brad~