2010 Topps Baseball Update Series
Per Box Items: (Hobby Box)
36 Packs Per Box
10 Cards Per Pack
1 Autograph or Relic Per Box
Product Highlights
Million Card Giveaway - Every Card is a Winner (9 per Hobby Box, 1 per Jumbo Pack)
Sketch Cards - Hobby and Jumbo Only
New Player Sketch Cards - Hobby & Jumbo Boxes Only (#/1)
Artist Sketch Cards - Hobby & Jumbo Boxes Only (#/1)
Parallel Cards
Topps Silk Collection - Hobby & Jumbo Boxes Only (#/50)
Platinum - (#/1)
Black - Hobby & Jumbo Boxes Only (#/59)
Gold - 1:6 Packs, 1 per Jumbo Pack (#/2010)
Printing Plates - Hobby & Jumbo Boxes Only (#/1)
Insert Cards
Cards Your Mother Threw Out (1:3 Packs)
Original Back Parallel
More Tales of Game - (1:6 Packs, 1 per Jumbo Pack)
Vintage Legends - (1:4 Packs; 1 per Jumbo Pack)
Hall of Fame Buybacks
Peak Performance - (1:8 Packs)
Legendary Lineage - (1:8 Packs)
Autograph & Relic Cards
(1 Auto or Relic Card per Hobby Box, 1 Auto & 2 Relics per Jumbo Box)
Peak Performance
Peek Performance Rookies
Stephen Strasburg Redemption
Rookie Logo Patch Cards
Turkey Red Cards - (1:4 packs, 1 per Jumbo Pack)
MLB Exclusive Patch Cards - (#/50)
New Collector Sketch Cards - (#/1)
Topps Attax Cards - (1 per Hobby & 1 per Jumbo Pack)
2010 All Star Game 2009
(1 Auto or Relic Card per Hobby Box, 1 Auto & 2 Relic Cards per Jumbo Box)
All Star Stitches - (#/1)
Platinum Parallel - (#/50)
Gold Parallel - (#/25)
All Star Stitches Autographed Relics - Hobby & Jumbo Boxes Only (#/6)
All Star Jumbo Patches - Hobby & Jumbo Only - (#/6)
All Star Jumbo Patch Autographs - Hobby & Jumbo Only (#/25)
All Star Stitches Dual Relics - Hobby & Jumbo Boxes Only (#/25)
All Star Stitches Triple Relics- Hobby & Jumbo Only! (30 subjects/10 cards)
Bat Barrel Cards - Hobby & Jumbo Only (1 per Jumbo Box)
New Manufactured Bat Barrel Cards
Pink Parallel - (#/1)
Black Parallel - (#/25)
Cut Signature Cards (#/1)
Chrome Rookie Refractor Box Loader - (1 per Hobby Box, 1 per Jumbo Box!)
1963 Mickey Mantle Reprint - (#/63)
Here Is What I Pulled In This Box:
359 Unique Cards - Six Duplicates
253/330 Base Cards - 76.7% of Base Set
36 Topps Attax
13 Cards Your Mom Threw Out
9 Million Card Giveaway
9 Turkey Red
9 Vintage Legends
6 More Tales of the Game
6 Gold Parallel #/2010
5 Legendary Lineage
4 Peak Performance
1 Black Parallel #/59
1 Box Topper Topps Chrome Rookie Refractor
1 Relic Card
Base Cards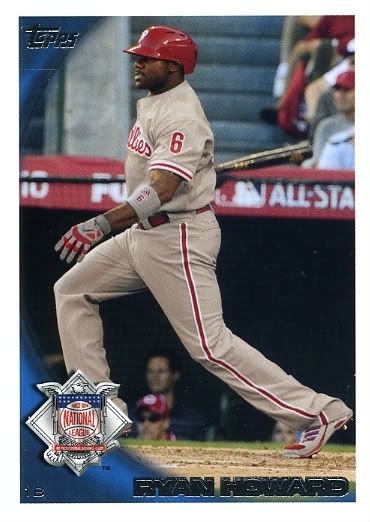 There are 330 cards in the base set. They consist of rookie cards, players who changed teams during the season, and home run derby contestants. The cards have the same design as the Series One and Two Topps cards with the white border. The front of the card has the team's logo with the team color worked on one side. The back of the cards have player information and career major league stats. You should be able to complete the base set with a box and a half and some light trading.
Inserts
If you like inserts, this is your product. There are over 100 cards in a box of nothing but inserts. There are over 7 different types of inserts with most carrying over from the Series One and Two product. The Cards Your Mom Threw Out are one of my favorites and they continue with another 58 different cards. The Turkey Red Inserts also continue and add another 50 cards to that set.
Gold Parallel
These cards have the same look and design as the base cards except with a gold border. The cards are numbered out of 2010. We pulled 6 Gold cards: Hong Chih Kuo #162, Ryan Ludwick #169, Ben Sheets #205, Yorvit Torrealba #217, Kevin Millwood #255, and Arthur Rhodes #286.
Black Parallel
These cards have the same look and design as the base cards except with a black border. The cards are numbered out of 59. We pulled a Coco Crisp #312.
Box Topper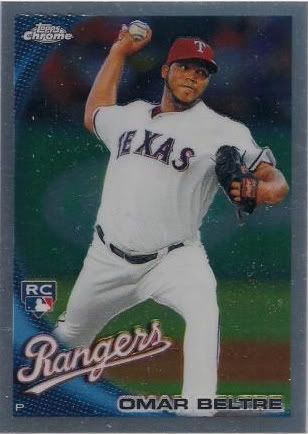 The Box Topper was a Topps Chrome Omar Beltre Rookie Refractor #36. These cards have the same look and design of the base cards except with a chrome finish and refractor tint. You get one Box Topper card per box.
Cards Your Mom Threw Out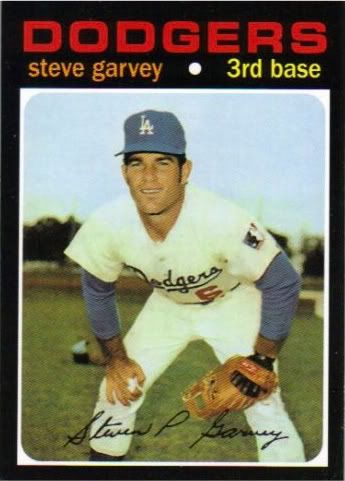 These cards are reprints of some of the classic Topps cards of the player featured. We pulled 13 cards: Eddie Mathews #117, John Podres #118, Tom Lasorda #119, Carl Yastrzemski #126, Steve Garvey #136, Mark Fidrych #142, Rickey Henderson #147, Dave Winfield #150, Nolan Ryan #156, Billy Wagner #159, Nomar Garciaparra/Derek Jeter/Alex Rodriguez #164, Mike Schmidt/Jim Thome #169, and Ian Kinsler #170.
The John Podres #118 has the original 1953 Topps card back design on it instead of the 2010 insert set card back design.
Legendary Lineage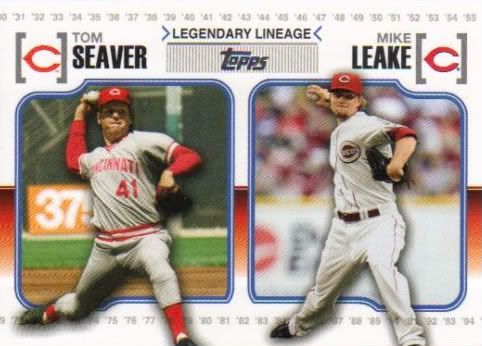 This insert set showcases a baseball all star and compares him to a rising prospect. We pulled 5 cards: Rod Carew/Robinson Cano #64, Mark Teixeira/Logan Morrison #68, Tom Seaver/Mike Leake #69, Ernie Banks/Starlin Castro #70, and Jim Palmer/Brian Matusz #71.
Million Card Giveaway
Every Million Card Giveaway is a Winner. Log onto
www.toppscards.com
and enter the code on the back of the card to redeem your card. We pulled 9 cards: Roy Campanella #21, Gary Carter #22, Bob Gibson #23, Ichiro Suzuki #24, Mickey Mantle #25, Roger Maris #26, Thurman Munson #27, Mike Schmidt #28, and Mickey Mantle #30.
More Tales of the Game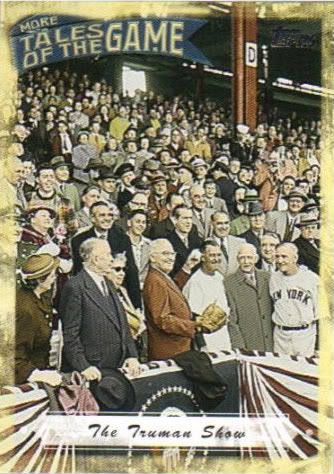 This insert set showcases some great stories and headlines from Major League Baseball. We pulled 6 cards: Seven Touchdowns #3, Eddie Mathews #4, Babe Ruth #5, Andre Dawson/Alex Rodriguez #9, Walter Johnson #10, and Harry Truman #13.
Peak Performance
This insert set highlights some great performances from some of MLB's young stars. We pulled 4 cards: Jered Weaver #110, Starlin Castro #116, Mike Stanton #117, and Tyler Colvin #120.
Topps Attax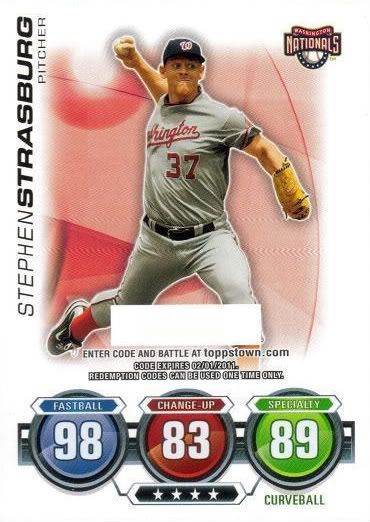 Each pack has one Topps Attax card. Log onto
www.toppstown.com
and enter the code on the front of the card to play. We pulled 36 cards: Jered Weaver #28, Hideki Matsui #29, Mark Reynolds #30, Brian McCann #33, Nick Markakis #35, Kevin Youkilis #36, Victor Martinez #37, John Lackey #38, Starlin Castro #39, Paul Konerko #42, Shin Soo Choo #44, Ubaldo Jimenez #46, Miguel Cabrera #47, Mike Stanton #50, Hunter Pence #51, Joakim Soria #52, Andre Ethier #53, Clayton Kershaw #54, Ryan Braun #55, Joe Mauer #56, Ike Davis #58, David Wright #59, Robinson Cano #60, Kurt Suzuki #62, Roy Halladay #63, Ryan Howard #64, Adam Wainwright #67, Buster Posey #69, Matt Cain #70, Ichiro Suzuki #71, Evan Longoria #72, David Price #73, Josh Hamilton #74, Vernon Wells #75, Stephen Strasburg #76, and Adam Dunn #77.
Turkey Red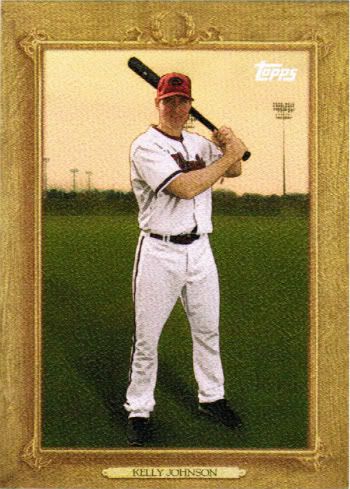 The Turkey Red inserts have an old school retro feel to the card. The card photo displays a painted portrait of the player featured with his name on a plate on the bottom of the card. We pulled 9 cards: Kelly Johnson #102, Aramis Ramirez #107, Jonathan Broxton #116, Jason Bay #119, Ryan Doumit #124, Kyle Blanks #125, Lou Brock #133, Rogers Hornsby #136, and Cy Young #144.
Vintage Legends
This insert set features past baseball greats with older Topps card designs. We pulled 9 cards: Cy Young #27, Reggie Jackson #32, Christy Mathewson #33, Eddie Murray #37, Tom Seaver #40, Pee Wee Reese #44, Willie McCovey #48, Tris Speaker #49, and Walter Johnson #50.
Relic Card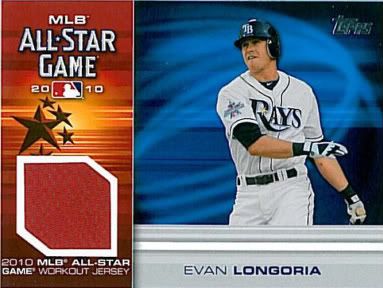 Our one hit card of the box was a MLB All Star Game Jersey of Evan Longoria. The card has the red swatch on the bottom left of the card with the player featured on the right side. The swatch was a Workout Jersey.
Product Rating:
Value = 5
Innovation = 5
Fun and Experience = 5
Rebuy Value = 4
I rate this product an A for Topps
NPN:
NPN Topps Baseball Update Series
P.O. Box 763
Pittson, PA 18640
I really enjoyed this box and would like to thank Topps for another great product. The photography and player selection are strong in this Update Series. The box is insert heavy and there are many great insert sets here to choose from. Some of the my favorite ones are the Cards Your Mom Threw Out and Turkey Red cards. The hobby boxes are very reasonably priced and can be had for around $35 to $43.
I would like to thank Topps and Card Collectors World for giving us this chance to break this box. Please support the sponsors that support us.