2009 TRISTAR Prospects Plus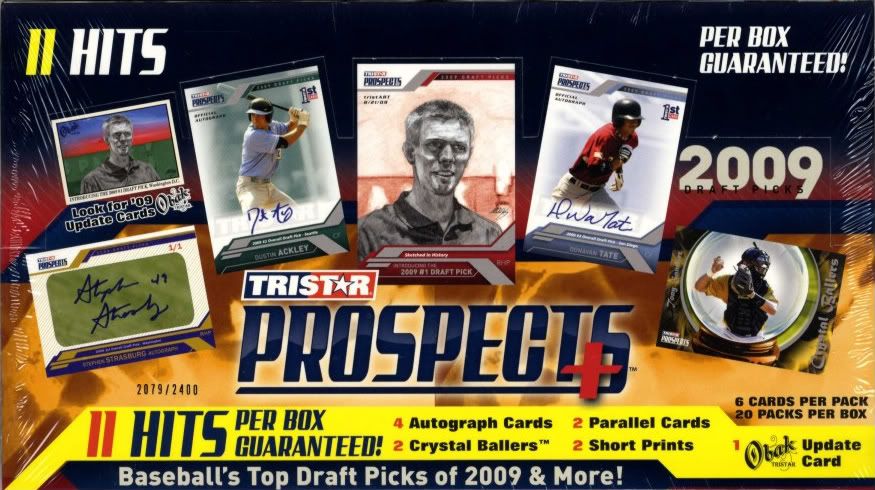 20 packs per box 6 cards per pack
Product Highlights:
100 card base set with 32 SPs
Each box contains atleast 11 hits..
4 autograph cards
2 parallels
2 Crystal Ballers
2 Short Prints
1 TriStar Obak Update
Each box is actually serially numbered on the outside.. Only 2400 boxes were produced.
Autograph Cards
Over 75 different Autograph cards
20+ multi-autograph cards
Autographs of some of baseball's top prospects from the 2009 draft plus names like Seaver, Sandberg, and Murphy!
All autos are numbered out of 1, 5, 25, 50, or 199.
Also included are Cut Signatures from names like Reggie Jackson, Johnny Bench, Strasburg and more.
Parallel Cards
There are a ton of parallels of the top draft picks to chase in this year's set.. 15 different Strasburg cards including color variations, 45 different Dustin Ackley, 25 different Donavan Tate, plus many many more.
Crystal Ballers
Brand-New subset for 2009.. 16 short print cards featuring the draft's top stars.
The base set consists of 5 subsets.
Cards 1-76
High gloss cards with silver foil accents.
Cards 77-100 feature multi-player cards.
77-86, 92, and 100 feature dual player cards.
87-90 and 98 feature quad player cards.
91, 93-97, and 99 feature triple player cards.
Some are separated by the team they were drafted by, the school they came from, or high school players.
Crystal Ballers
Cards 101-117 feature the 2009 Baseball Draft's top stars.
What I received from my box
I received 78 of 100 cards from the base set with 31 doubles.
Green Parallels
I pulled 2 Green parallels numbered out 25
#4c Tony Sanchez
#37 Tyler Kehrer
Red Parallels
I pulled one red parallel numbered out of 5
#3b Donavan Tate
Short Print cards
Cards #1-5 and 24 are shortprints. #1-5 are variations in color of the border or a portrait instead of the action photo. #24 in the set is Slade Heathcott, however Nicholas Franklin is also #24 being a short print.
I pulled only one regular short print #2b Dustin Ackley.
However I did receive one extra parallel from what I should have per the box and sell sheet. Two of the parallels I pulled were actually short prints.
The short prints have a box or circle around the number. The Tony Sanchez and Donavan Tate were short print parallel cards.
Obak Update cards
I did not receive any Obak Updates, however I did receive one extra Crystal Ballers so I am not upset at this.
Autograph Cards
I pulled
#35 Matthew Bashore
#60 Seth Schwindenhammer
#63 Kristopher Hobson
All of them are numbered out of 199
I also received a Green parallel autograph
Dustin Ackley /25
Final Thoughts:
A very fun product to open. There is a ton of potential from any one card in this set which makes it a prospectors dream. In each box there are 11 hits which mean over half of the packs in the box contain something special. The cards are very high gloss with nice action photos and plenty of parallels and short prints to chase down for player and team collectors. I really like TRISTAR products, they have cards of all the top prospects and autographs before anyone else and the cards are beautifully done. While I did receive the box minimum of 11 hits per box, I did not receive both of the regular short prints and the Obak Update cards, but I did get extra parallels and Crystal Ballers.
My grades for the product:
Value - 5
Innovation - 5
Fun & Experience - 5
Rebuy Value - 4
Overall Grade - A
I would like to thank TRISTAR & Card Collectors World for giving me the chance to review this product.