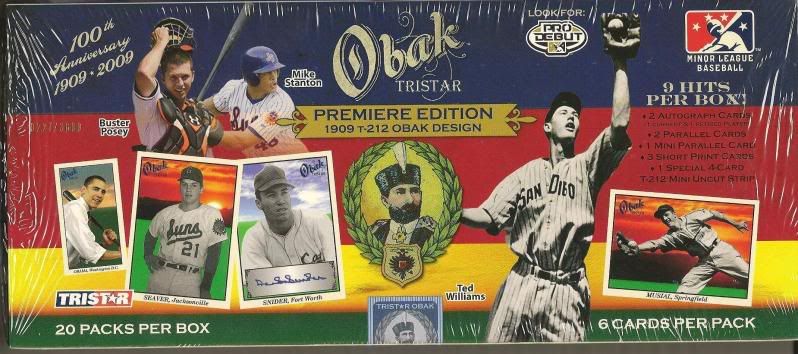 20 packs per box, 6 cards per pack
PRODUCT HIGHLIGHTS:
- Nine Hits Guaranteed Per Box!
- 114-Card Base Set Uses Enhanced Background Color Imaging & Unique Photo Style To Capture The Look & Feel Of The Original Release!
- Only 3,600 Individually #'d Hobby Boxes Produced (33% Less Than Tristar Projections '09!
- All Autograph Cards Are Individually #'d to 200 Or Less...The First Time Tristar Has #'d Every Autograph Card!
- Short Print Cards Are 77% More Scarce Than The Base Cards! The Chase Is On!
- Tristar OBAK Is Officially Licensed By Minor League Baseball!
PRODUCT DETAILS:
Broken into multiple unique subsets the complete 114 card base set is sure to be in high demand. These subsets include:
1) PRO DEBUT - This exclusive logo is for players making their pro baseball card debut in uniform.
2) HISTORY IN THE MAKING - This group of select superstar prospects are proving to be the future of baseball, making their mark in the minors before taking it to the next level!
3) HISTORY'S GREATEST PLAYERS - Own the first-ever Ted Williams Minor League Baseball card! Included in this subset are the greatest players to play the game in their MINOR LEAGUE UNIFORMS! Ted Williams, Stan Musial, Duke Snider, Satchel Paige, Tom Seaver, Nolan Ryan and more!
4) MINOR LEAGUE HEROES AND LEGENDS - This subset features players who made their mark as they came rising through the minor league ranks.
5) MINOR LEAGUE BEST- The Majors have Joe DiMaggio's 56 game hitting streak but did you know that Joe Wilhoit hit in 69 consecutive professional games? Joe Bauman hit 72 home runs in 1954 while playing for Roswell. What Walter Carlisle accomplished in the minor leagues only happened once...an unassisted triple play, BY AN OUTFIELDER!
6) MINOR LEAGUE PLAYER OF THE YEAR - Represented in this subset are the best of the best.
7) GAME CHANGERS - It took these Game Changers and their unique vision to transform the game into what we know today. From Rawlings and Spalding for equipment, to Francis Scott Key & Jack Norworth for penning The Star Spangled Banner & Take Me Out to the Ball Game, to color & gender barrier breakers Bud Fowler & Jackie Mitchell to the Rueckheims & Eckstein for that candy coated Cracker Jack, these men & women helped mold the game of baseball.
8) MULTI-SPORT - Bo Jackson, Sammy Baugh & the great John Heisman all made their marks in both Football & Minor League BB.
9) PRESIDENTS - As we celebrate 100 years of Obak baseball cards, we celebrate the U.S. President in office in 1909, William H. Taft, & the first-ever African-American U.S. President & Commander in Chief during the release of TRISTAR OBAK 2009, Barack Obama.
10) HISTORICAL TEAM COMBOS - Many players have come through the minor league systems over the past 100 years...and now, new prospects come up to carry the torch. ATL fans can enjoy a dual card of Dale Murphy & Jason Heyward, STL fans can celebrate the great Stan Musial & newcomer Brett Wallace, plus Lars Anderson & Boston's newest Hall of Famer Jim Rice to name a few.
What was in my box break of 2009 TRISTAR Obak:
Box Topper:
Ser#d to /3600
Bo Jackson, Barack Obama, Dinesh Kumar Patel & Rinku Singh, Bing Crosby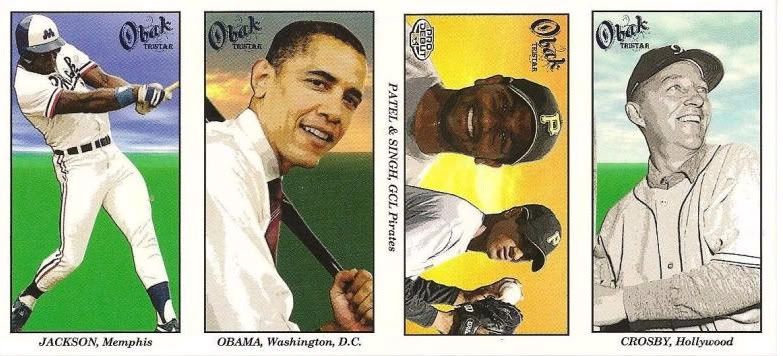 Basecards: 90 no dupes
The set has a mix of up and coming stars from the minors (PRO DEBUT) along with great HoFers, Game Changers.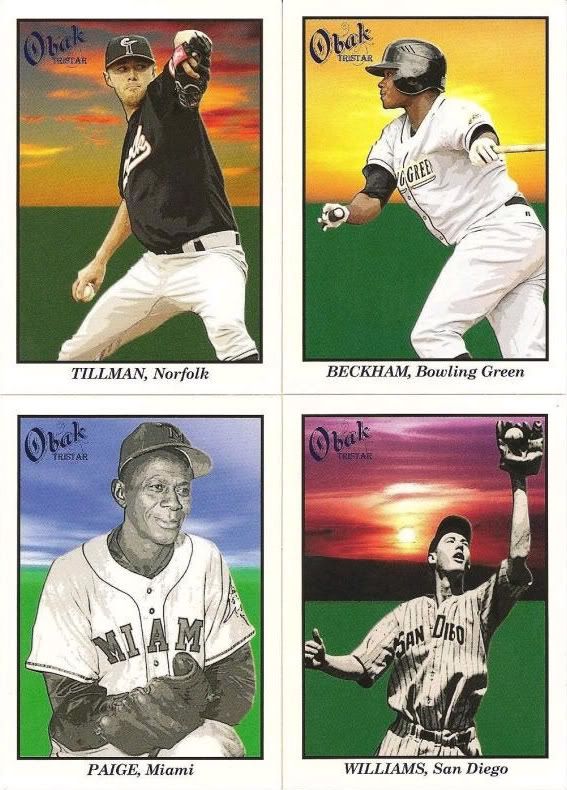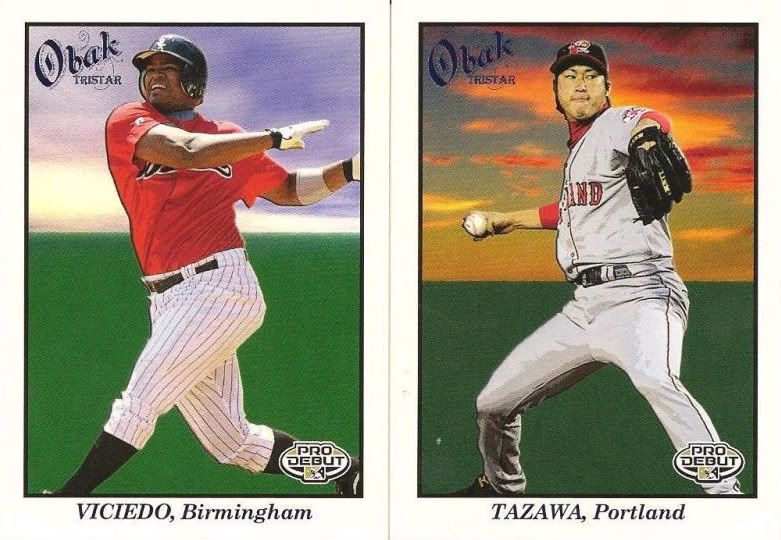 HoFers the great Ted Williams & Satchel Paige
Top Minor League players, Tim Beckham & Chris Tillman
Beckman was drafted #1 overall in 2008 & Tillman throws in the mid 90's with a nasty curveball that scares batters
Dayan Viciedo & Junichi Tazawa
Viciedo signed the largest contract ever by an international player under the age of 21 and had 100 scouts check him out.
Tazawa never played an inning as a pro before being signed by Boston in Dec 08 and has a 97 mph fastball.
Still more basecards put need to be mentioned: U.S. Presidents and Game Changers
U.S. Presidents Taft & Obama
Taft took office in 1909, the first year Obak baseball cards were made and Obama, our first African-American President.
William Wrigley Jr. & Jack Norworth
Wrigley was not just a chewing gum leader but also bought the Los Angeles Angels of the PCL
Norworth wrote the lyrics to the great song "Take Me Out To The Ball Game" in 1908
T-21 Parallel Cards: 20 no dupes
Nick Lachey, Brett Wallace
Alexander Cartwright, Madison Bumgarner
Lachey: Is best known for the band 98 degrees and is part owner ofthe Tacoma Rainers in the Triple-A
Wallace: Reached Triple-A level in less then 1 year and was 1 of 3 players involved in the Matt Holliday trade.
Cartwright: Was credited by Congress (in 1953) with inventing the modern game of baseball.
Bumgarner: Brings great mound presence to the field with a hard to touch fastball.
SP cards: 3
Tommy Hanson (Front and back), Tom Seaver, Ron Necciai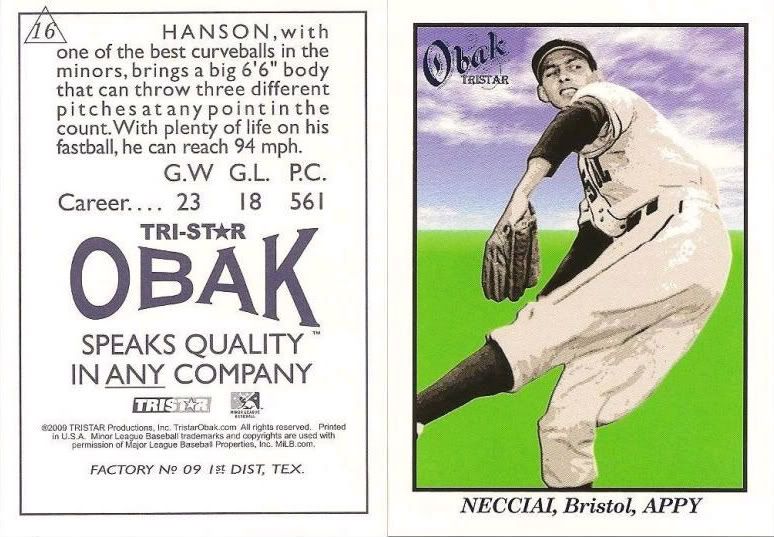 T-212 Mini Parallel numbered to /50
Junichi Tazawa PRO DEBUT Ser#d 08/50
Ser#d to /50
Spenser Harris
Spenser holds the minor league record for runs,doubles and hits.
Green Parallel Ser#d to/25
Bobby Grich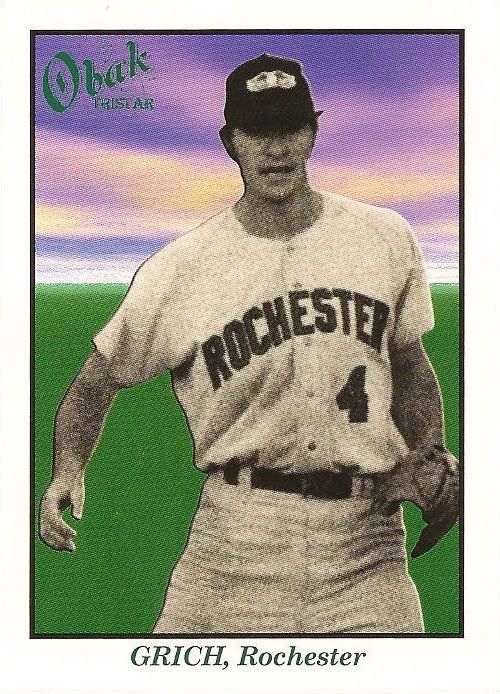 Autograph Ser#d to /200
Ron Necciai
Necciai at the age of 19 struck out 27 batters for Bristol of the Appalachian League on May 13 1952
Autograph Ser#d to/25
Chase D'Arnaud
Pittsburg feels they have the next great offensive shortstop in D'Arnaud
TriStar has become the preeminent producer of Minor League Baseball cards for the hobby, so it only makes sense that their throwback set take its design from a vintage minor league set. Obak tobacco cards were produced from 1909 to 1911 and featured only West Coast minor league teams and players. They are very rare and complete sets are scarce in the hobby.
Tapping into the retro/vintage/tobacco card aesthetic with Minor League sets.
Looks like something many collectors could get into.
I WOULD LIKE TO THANK TRISTAR AND CARD COLLECTORS WORLD FOR GIVING ME THE OPPURTUNITY TO REVIEW THIS BOX. PLEASE SUPPORT THE SPONSORS THAT SUPPORT CARD COLLECTORS WORLD!