10-11 Timeless Treasures Basketball
Hobby Release Date: January 5th, 2011
Hobby Configuration: 1 Pack Per Box, 5 Cards Per Pack
Hobby Pack SRP: Average $80 to $85
Case Break (On Average)

• Find one or more of the following: Kobe Bryant Autograph, Shaquille O'Neal Autograph, John Wall Autograph and Cut Signature, Logoman, Logoman Signature, Laundry Tag Logoman, Laundry Tag Logoman Signature, Laundry Tag Team Logo, Laundry Tag Team Logo Signatures or Signatures of Magic Johnson, Bill Russell, Bill Walton, John Stockton, or Larry Bird.
Box Break (On Average)

• 3 Autograph or Memorabilia Cards (At Least One Autograph) Per Tin
• 2 Commons or Parallels #/ed to 399 or less
Highlights

• 100 Commons #/ed to 399
• 50 Rookies #/ed to 399 or less
• Exclusive Autographs of Kobe Bryant, John Wall, Wesley Johnson, and Brandon Jennings!
• More than 300 #1/1 cards!
• Rookie Year Materials Prime featuring game worn Prime swatches from the league's elite players' rookie seasons, #/ed to 10 or less!
• First ever memorabilia card pairing game used material of Lakers legends and Hall of Famers George Mikan and Kareem Abdul-Jabbar, with Prime versions #/ed to 5!
• Autographs of today's top players such as Derrick Rose, Amare Stoudemire, Joe Johnson, Chris Bosh, and Tyreke Evans as well as newest HOFer Scottie Pippen and future HOFer Allen Iverson!
Our Box Break:
Base Cards
The base cards have a very clean smooth surface. The player is featured in the center of the card surrounded by a white background. All base cards are numbered to 399. There are 100 base cards in the set. We beat the odds and pulled an extra base card. We pulled a Lebron James #163/399, Joe Johnson #361/399, & Thaddeus Young #149/399.
Game Used Cards
The first Game Used card we pulled was a Michael Redd Home & Road Gamers Materials #32/99. This card features two swatches from a home and away jersey. The jersey swatches are placed directly under each of the player photos.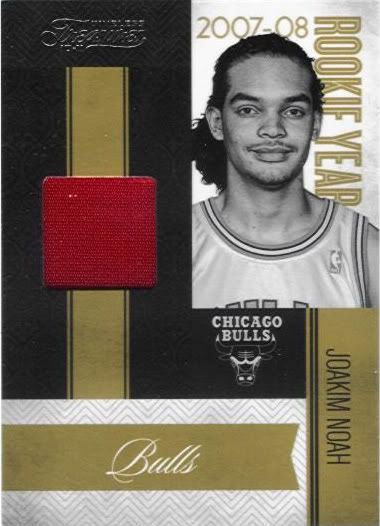 The second Game Used card we pulled was a Joakim Noah Rookie Year Materials #39/49. This card features the jersey swatch on the left side of the player photo. The team name is located on the bottom of the card.
Autographed Card
We pulled a Redemption Card #142 which is for a Devin Ebanks Rookie Recruits Signature. The card can be redeemed online and expires on June 29th, 2012. I am going to redeem this card tomorrow and will post a scan of the actual card when it comes in. Estimated delivery time is 6 to 8 weeks.
Final Thoughts
Panini has improved their Timeless Treasures product compared to last season. The cards come wrapped inside a collectible tin that features Derrick Rose on the cover. Inside the tin is a checklist that lists every single card in this product. The base cards are very clean and the white background puts more emphasis on the player featured. We pulled an extra base card from the box which gave us a Lebron James. I like the look of the Home & Road Gamers Materials. I have always liked Game Used Cards that give us the option of different color swatches. I am excited to see what the Devin Ebanks Autograph will look like. Being a Lakers fan, I am thrilled to pull a hit card from someone on my team.
Here is how I would rate this product:
Value = 4
Innovation = 5
Fun and Experience = 5
Rebuy Value = 4
I rate this product an A- for Panini!
NPN:
NPN 2010-11 Panini Timeless Treasures Basketball
2300 E. Randol Mill
Arlington, TX 76011-6333

Hand print your name and complete address on a 3x5 card and use a #10 envelope.

Canadian residents answer this question: 777 plus 182 divided by 112 times 136 minus 156 = ?

Postmarked by 3/16/11

Limit to 2 entries per household.
Only one card per envelope, mailed separately.
I would like to thank Panini & Card Collectors World for giving me the chance to review this new product.
Please support the sponsors that support Card Collectors World!