2010-11 Panini Luxury Suite Hockey
Configuration: 3 Cards Per Pack, 4 Packs Per Box
Suggested Retail Price: $135
Box Break
• 8 Autographs/Memorabilia Cards Per Box (At Least 2 Autographs)
• 4 Rookie Cards (Numbered to 899)
Case Break
• 2 SSP Autograph/Memorabilia Rookies (Taylor Hall, Jeff Skinner, Tyler Seguin, etc) numbered to 199 or less!
• 3 SP Autographed Rookies (Nazem Kadri, Jacob Markstrom, Linus Omark, etc) numbered to 299 or less!
• 5 Gold Parallels numbered to just 10 copies!
Highlights
• Every pack contains 2 Autographs, Memorabilia, or Autograph/Memorabilia Cards plus at least 1 Rookie!
• A staggering 125 Rookies, including 50 enhanced by Memorabilia and/or Autographs!
• Multiple tiers of each base card, each enhanced by a variety of Memorabilia options including Game Used Swatches of Jersey, Prime Jersey, Patches, Jersey Numbers, and Sticks!
• Also looked for signed cards of hockey's greatest legends numbered to just 199!
• Look for 1/1 Black parallels!
Our Box Break
Rookie Cards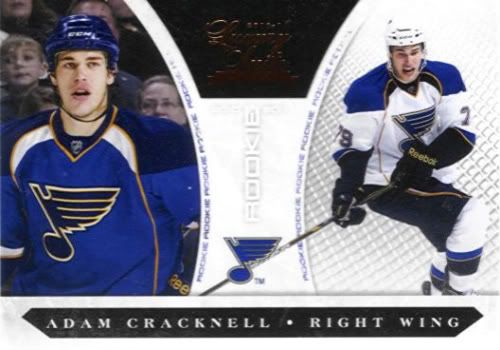 The Rookie Cards are designed as thick stock cards with a glossy finish. The team logo is in the center of the card with the word rookie above it. The left side of the card has a posing shot of the player and the right side an action shot of the player. Panini did a great job with the Rookie Card designs. We pulled 4 Rookies: Grant Clitsome, Adam Cracknell, Cory Emmerton, and Eric Wellwood. These cards are numbered out of 899.
Memorabilia Cards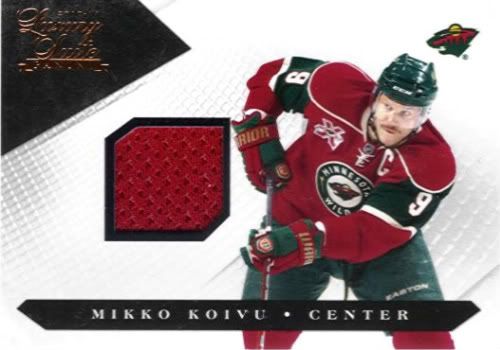 The Memorabilia Cards contain a solid colored Jersey Swatch of the player pictured. These cards have a solid white background with a net like picture blended in on the left side. We pulled 4 Memorabilia Cards: Ilya Bryzgalov, Mikko Koivu, Anze Kopitar, and Jordan Staal. These cards are numbered out of 599.
Dual Memorabilia Cards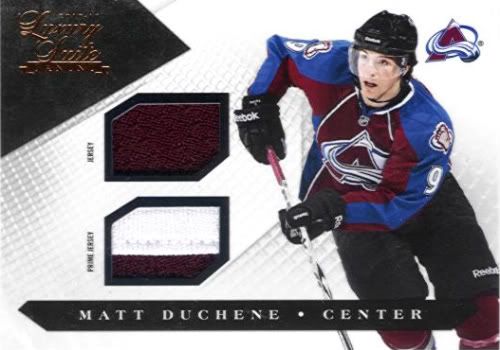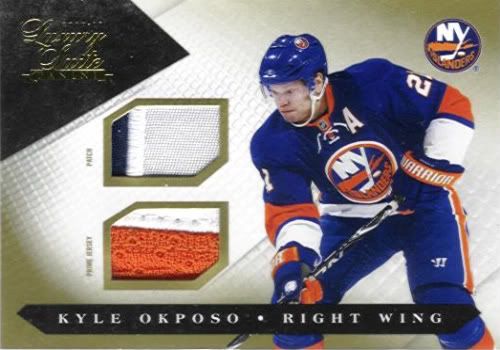 The Dual Memorabilia Cards can contain a combination of Jersey Swatches, Prime Jerseys, Patches, Jersey Numbers, and Hockey Sticks. We pulled 2 Dual Memorabilia Cards in our box. The first was a Matt Duchene Jersey/Prime Jersey numbered 150 out of 150! The second one was the best hit of the box. We pulled a Kyle Okposo Patch/Prime Jersey numbered 5 out of 10!
Autograph Cards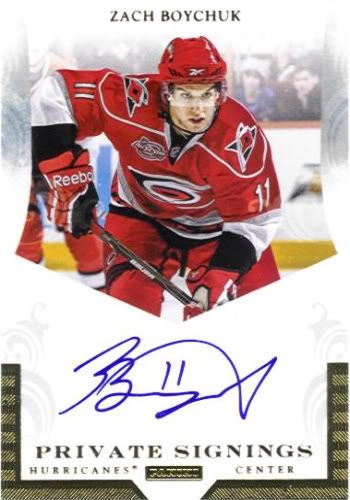 The Private Signings Autograph Cards have an amazing look to them with the gold borders and colorful backgrounds. The autographs are signed directly on the card in blue ink. We pulled 2 Autograph Cards: Zach Boychuk and Dustin Penner.
Final Thoughts
Panini Luxury Suite is a high end hockey product that yields 8 hits per box. The Rookie and Memorabilia Cards are nicely designed as thick stock cards. The Memorabilia Cards boast a nice combination of Jersey Swatches and Patches. The Autograph Cards look very appealing with its gold bordering. Each box also contains a full player checklist of the 250 cards in the set and the Private Signings Autographs. Panini did an amazing job with the designs of the Rookie Cards and Autographs. The only thing I would change is the look of the Memorabilia Cards. The white background makes the cards look very plain and basic. If the different team colors were used as the background instead, the cards would stand out more. Boxes runs for about $135 to $140 at retail stores and online. This product can be a hit and miss for collectors due to its high price. There are some fantastic cards to pull from this box including highly sought out Rookies of Tyler Seguin and Taylor Hall.
Product Rating
Value = 4.5
Innovation = 4
Fun and Experience = 4
Rebuy Value = 4.5
I rate this product a B for Panini!
NPN
There is no NPN information for this product.
I would like to thank Panini & Card Collectors World for giving me the chance to review this new product.
Please support the sponsors that support Card Collectors World!