Product Description - 2010 Topps Triple Threads Baseball Hobby Box (We have 1 mini-box)
Find (1) Autographed Triple Relic Card and (1) Triple Relic Card per box!! (We only busted 1 mini-box)
Every Box contains:
- An Autographed Triple Relic (#'d 99 or less)
- A Triple Relic (#'d to 36 or less)
Every Pack contains:
- (1) Triple Relic Card (#'d to 99 or less)
- (2) Base Parallels Cards (#'d to 525 or less)
- (3) Base Cards
PRODUCT BREAKDOWN:
Base Set - 120 cards
- Veterans and Legends (120 MLB Greats - numbered)
- Platinum Parallel (One of One)
- Framed Printing Plates (One of One)
- Sapphire Parallel (Numbered to 25)
- Gold Parallel (Numbered to 99)
- Emerald Parallel (Numbered to 240)
- Sepia Parallel (Numbered to 525)
Autographed Relic Cards - 1 per box!
Rookies & Rising Stars Auto'd Relic Base Cards:
-- 48 subjects on carss featuring 1 player with 1 on card autograph and 3 relics, numbered to 99
- White Whale Printing Plates (One of One)
- Platinum Parallel (One of One)
- NEW! Wood Parallel (One of One)
- Sapphire Parallel (Numbered to 10)
- Gold Parallel (Numbered to 25)
- Emerald Parallel (Numbered to 50)
- Sepia Parallel (Numbered to 75)
Legends "Cut Above" Relics:
-- 10 cards containing 3 relics and a cut signature from a Topps Exclusive Legendary player, including Babe Ruth, Lou Gehrig, Ty Cobb. (One of One)
NEW! Legends Dual "Cut Above" Relics:
-- 6 book cards, each featuring 2 players with their cut signatures along with 6 relics. (One of One)
Presidential "Cut Above" Relics:
-- 6 cards with 3 relics and a cut signature from one of our nation's presidents. (One of One)
Autographed Relics:
-- Cards featuring 80 of today's players each with three relics and one autograph per card. (Numbered to 18)
- "White Whale" Printing Plates (One of One)
- Platinum Parallel (One of one)
- Wood Parallel (One of One)
- Sapphire Parallel (Numbered to 3)
- Gold Parallel (Numbered to 9)
Rookies & Rising Stars Autographed Relic Pairs:
-- 6 book cards featuring 2 players, 2 signatures, and 6 relics on each (Numbered to 50)
- Platinum Parallel (One of One)
- Sapphire Parallel (Numbered to 10)
- Gold Parallel (Numbered to 9)
Jumbo Plus Autograph Relics:
16 book cards with 1 player and his autograph along with two relics on one side and 1 jumbo relic on the other (Numbered to 3).
Autographed Relic Pairs:
-- 6 book cards featuring 2 players, 2 signatures, and 56 relics on each (Numbered to 18)
- Platinum Parallel (One of One)
- Sapphire Parallel (Numbered to 3)
- Gold Parallel (Numbered to 9)
Autographed Relic Combos:
-- 15 different cards with 3 players, 3 relics, and 3 autographs on each card! (Numbered to 36)
- "White Whale" Printing plates (One of One)
- Platinum Parallel (One of One)
- Wood Parallel (One of One)
- Sapphire Parallel (Nunmbered to 3)
- Gold Parallel (Numbered to 9)
- Emerald Parallel (Numbered to 18)
- Sepia Parallel (Numbered to 27)
Letter Plus Relics:
-- 16 book cards featuring 1 player, 1 autograph, 2 relics, and 1 letter patch. (Numbered to 3)
Platinum Parallel (One of One)
Autographed Relic Double Combos:
-- 6 book cards each featuring 6 players, 6 relics, and 6 autographs on each card. (Numbered to 3)
- Platinum Parallel (One of One)
Relic Cards - 1 Per Box!
NEW! Singular Swatches:
-- Each One of One book card showcases : 1 player with a complete relic piece such as sunglasses, wristband, necklace, etc.
NEW! All-Star Jumbo Sleeve Patches:
-- These One of One book cards highlight a 2009 All-Star player and his All-Star sleeve patch PLUS 2 other All-Star Patches! Sixty-six cards in all!
NEW! All-Star Laundry Tags:
-- Sixty-six ONE OF ONE book cards featruing a 2009 All-Star and his All-Star Jersey laundry tag PLUS 2 other All-Star swatches!
All-Star Logo Man:
-- 66 cards, each with 1 player and 2 relics and the mlb logo man patch from their MLB All-Star Game Jersey (One of One).
All-Star Patches:
-- 66 cards featuring 1 player and 3 2009 MLB All-Star Game Jersey Patches (Numbered to 9)
- Platinum Parallel (One of One)
Bat Name Plates:
-- 15 One of One book cards composed of 1 player and 3 relics , one of which is a one-of-a-kind bat name plate. Subjects include Pujols, Ruth and Ichiro.
NEW! Bat Knobs:
-- These 10 innovative One of One cards feature a single player, including Cal Ripken, Jr. and Lou Gehrig, along with an actual game-used bat knob and 2 patches.
XXIV:
-- 18 book cards which open to reveal 24 or more Relic pieces! (Numbered to 18)
- Platinum Parallel (One of One)
- Sapphire Parallel (Numbered to 3)
- Gold Parallel (Numbered to 9)
XXIV Legends:
-- Five Topps Exclusive Legends including Roger Maris are featured in One of One book cards featuring at least 24 relic pieces.
Jumbo Plus Relics:
-- 16 book cards with 1 player and 2 relics on one side and 1 jumbo relic on the other. (Numbered to 3)
- Platinum Parallel (One of One)
Letter Plus Relics:
-- 16 book cards featuring 1 player and 2 relics on one side and 1 jumbo relic on the other.(Numbered to 3)
- Platinum Parallel (One of One)
Jumbo Patch Combos:
-- 10 One of One book cars featuring 3 players and 1 jumbo patch from each.
Jumbo Letter/Number/Logo:
-- One of One book cards featuring 3 relics from a single player: 1 jersey letter, 1 jersey front letter or number, and 1 cap logo! 10 subjects
Relics:
-- cards highlighting 44 subjects (Numbered to 36)
- Platinum Parallel (One of One)
- Sapphire Parallel (Numbered to 3)
- Gold Parallel (Numbered to 9)
- Emerald Parallel (Numbered to 18)
- Sepia Parallel (Numbered to 27)
Legend Relics:
-- 30 of the greates of all time, Numbered to 36
- Platinum Parallel (One of One)
- Sapphire Parallel (Numbered to 3)
- Gold Parallel (Numbered to 9)
- Emerald Parallel (Numbered to 18)
- Sepia Parallel (Numbered to 27)
Relic Combos:
-- 60 different cards, featuring 3 players and 3 relics from each
- Platinum Parallel (One of One)
- Sapphire Parallel (Numbered to 3)
- Gold Parallel (Numbered to 9)
- Emerald Parallel (Numbered to 18)
- Sepia Parallel (Numbered to 27)
Double Combos:
-- 18 book cards showcasing 1, 2, or 6 players and 6 relics
- Platinum Parallel (One of One)
- Sapphire Parallel (Numbered to 3)
- Gold Parallel (Numbered to 9)
- Emerald Parallel (Numbered to 18)
- Sepia Parallel (Numbered to 27)
2 mini-boxes per display, 1 pack per mini box
What my mini-box had inside
Veterans and Legends (Numbered to 1350)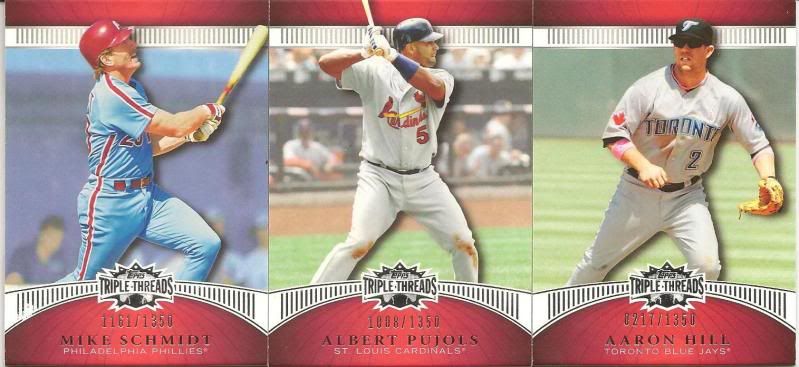 Sepia Parallel (Numbered to 525): Dale Murphy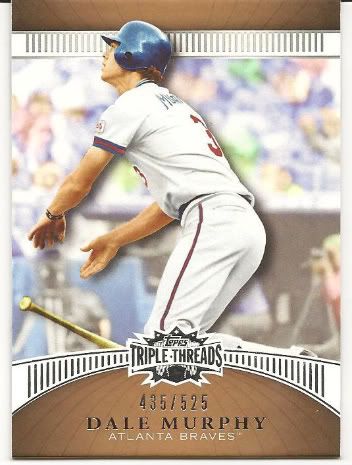 Emerald Parallel (Numbered to 240): Justin Morneau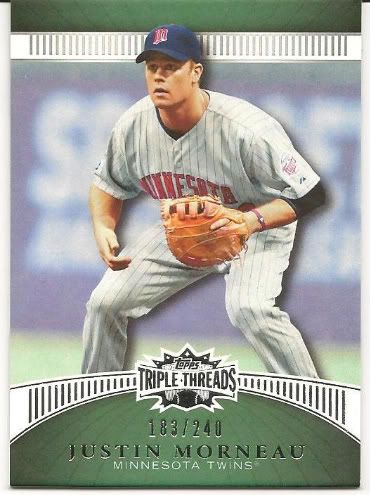 And now for the HIT Card: Chris Volstad Triple Bat with his Auto numbered to 75!!!!
Final thoughts on my break:
The Base Set (if you want to call them that) have a Great assortment of Veterans like Pujols mixed in with Great HoFers like Schmidt on Super thick cards ser#d to 1350 with crisp clear pictures without all the mess,Topps continues to put out a great product (Topps Triple Threads) every year.
The Veterans and Legends Parallels Cards are the same as the Base but ser#d lower and a different color for each level.
Great themes, everything numbered, on-card autographs (the one that I pulled), All-Star game relic cards, book cards etc.
If you have the itch to bust an awesome high end product, then 2010 Topps Triple Threads is for you!!
Product Rating:
Value = 5
Innovation = 4
Fun and Experience = 5
Rebuy Value = 5
I rate this product an A for Topps!
No Purchase Necessary
NPN 2010 Topps Triple Threads Baseball
P.O. Box 763
Pittston, PA. 18640
Limit 1 per household.
Postmarked by November 24 2010
Canadian Skill Test Question: 4 X 26 +12 - 22 = ?
I would like to thank TOPPS & Card Collectors World for giving me the chance to review this new product. Be on the lookout for contests involving cards from this break.