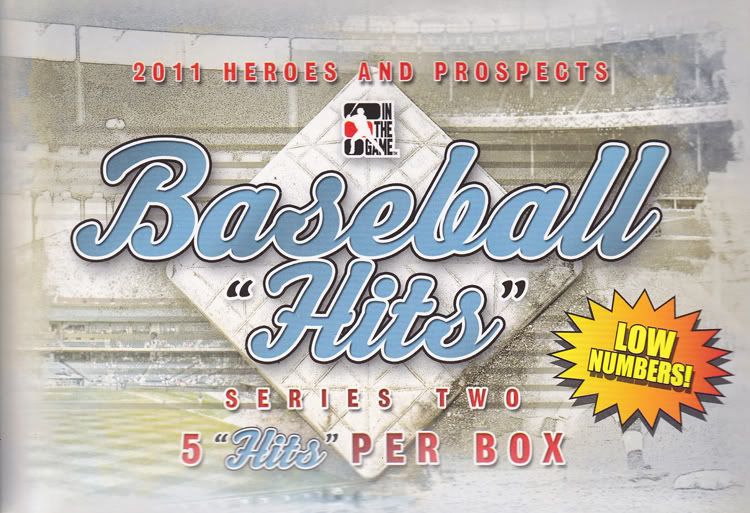 2011 ITG Heroes & Prospects Baseball Hits Series Two
Release Date: August 3, 2011
Retail Configuration: 1 Box, 5 Hit Cards
Box Break
• 3 Heroes and Prospects Silver Autographs
• 1 Lumbergraph Autograph
• 1 Between the Seams Ball Autograph
Product Description
• This product features some HOF names such as Hank Aaron, Roberto Clemente, Lou Gehrig, and Reggie Jackson just to name a few.
• There are also a ton of Prospect Autographs in this product as well. Including 2011 First Round Draft Picks Cory Spangenberg, Jake Hager, Jace Peterson, James Harris, Keenyn Walker, and Kolten Wong!
• There are chances to pull 1 of 1 Signature Cut cards, Bat Barrel Head cards, Game Used Glove cards, and so much more!
• You might even find a Baseball signed by one of these U.S. Presidents Barack Obama, Bill Clinton, and George W. Bush!
Our Box Break
Prospect Autographs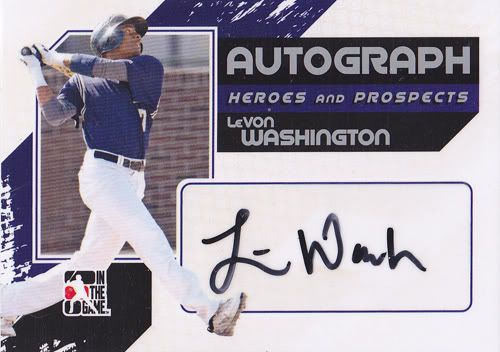 There are 29 different prospects signing in this year's Series 2 product. We pulled 2 Silver versions from our box. Levon Washington #A-LW and Manny Banuelos #A-MB. These on card autos have beautiful designs to them. Silver versions are numbered to 390 and Gold versions to 10.
Up Close and Personal Autograph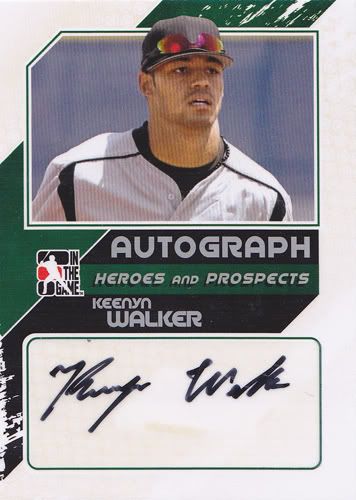 These autograph cards are very similar to the standard prospect autographs as shown above. However, these cards are shown with a Pose instead of a Action picture of the player. We pulled 1 Silver version from our box. Keenyn Walker #A-KW2. Silver versions are numbered to 190 and Gold versions to 10.
Lumbergraphs Autograph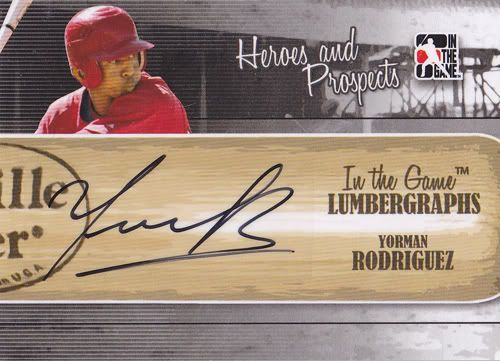 This set has a wicked design to it. The autograph on the sweet spot of the bat really makes this card stand out. The on card autographs makes this card much more desirable to collectors. We pulled Yorman Rodriguez. All cards are numbered to 100.
Between the Seams Autograph
I love the look of this set. The ball autograph really jumps out at you. This is an amazing looking card. We pulled a Gold Cory Spangenberg. Three versions of these cards are available. Red numbered to 30, Gold to 19, and White numbered to 1.
Final Thoughts
In The Game has released their second series of the Heroes and Prospects Baseball Hits product and it is still a Grand Slam. The five hit cards come packed in a penny sleeve and top loader already inside each box. There are no base cards in this product, so you know you will pull 5 hits in each box. This product features a variety of Hall of Famers such as Hank Aaron, Roberto Clemente, Lou Gehrig, and Reggie Jackson just to name a few. Also included in this product are autograph baseballs signed by U.S. Presidents Barack Obama, Bill Clinton, and George W. Bush. The Prospect Autographs and Up Close and Personal Autographs are sticker autographs, but you barely notice it from the scans because of the white background used. The Prospect Lumbergraphs Autograph has an amazing design to it. My favorite design of this box is the Between The Seams Autograph. This was a real fun box to open. We had a full box of prospects this time but I know there are a ton of heroes cards to be pulled in the product as well. I am real impressed by the look of these cards and I hope to see In The Game producing more in the future!
Product Rating
Value = 5
Innovation = 5
Fun and Experience = 4
Rebuy Value = 4
I rate this product an A- for In The Game!
NPN
There is no NPN information for this product.
I would like to thank In The Game & Card Collectors World for giving me the chance to review this new product.
Please support the sponsors that support Card Collectors World!