10-11 Panini Contenders Patches Basketball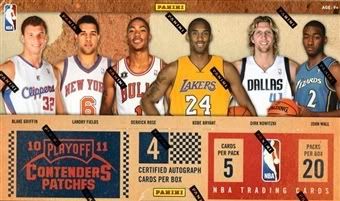 Set Features
Configuration: 20 packs per box. 5 cards per pack.
BOX BREAK
4 Autographs, Including 3 Rookie Patch Autographs - One of which will be a draft lottery pick!
CASE BREAK
Find one or more of the following Autographs: Kobe Bryant, Shaquille O'Neal, and Panini Exclusive John Wall, Dual-Signed Building Blocks Black Autographs #'d to 10 or less and Place in History Black Autographs #'d to 10 or less.
HIGHLIGHTS
Look for Autographed Rookie Tickets Rookie Cards
200 Championship Tickets 1 of 1's
Classic Tickets Prime Material Autographs #'d to 10 or less
Also included are Autographs of today's top players: Kobe Bryant, Shaquille O'Neal,Blake Griffin, Amare Stoudemire, Derrick Rose, Tyreke Evans, and Carmelo Anthony.
PLUS Panini Exclusives: John Wall, Evan Turner, Wesley Johnson and Brandon Jennings
Place in History Autographs Kobe with the Hornets? Dirk with the Bucks? Details of the last 25 years of the NBA Draft including:
Kobe Bryant (Charlotte Hornets)
Dirk Nowitzki (Milwaukee Bucks)
Pau Gasol (Atlanta Hawks)
Scottie Pippen (Seattle Supersonics)
Rookie of the Year Contenders Autographs Including John Wall and Blake Griffin among others!
Here is what we pulled in our 2010-11 Contenders Box Break:
Base Cards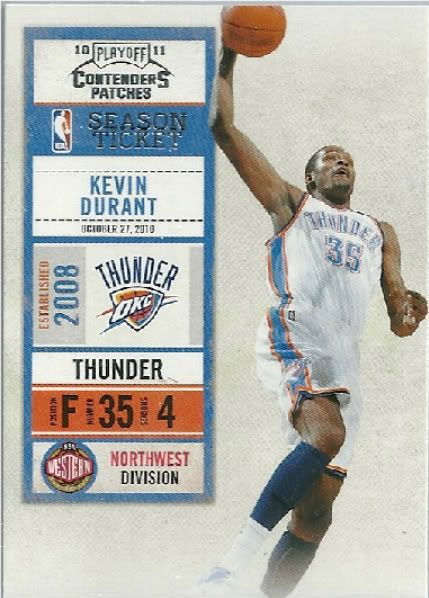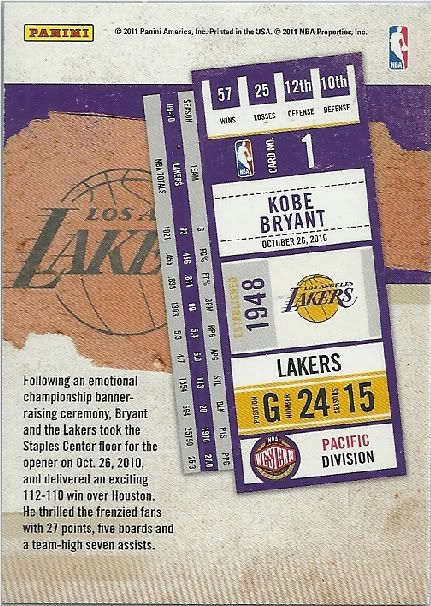 The base cards have a great basic design. Nice action shot of the player with a grayish/white background. The front of the card is also very informational listing the player position, player jersey number, the number of seasons the player has played, as well as when the team was established. We got 83 out of 100 cards from the base set with
NO
doubles!
Inserts
Season Ticket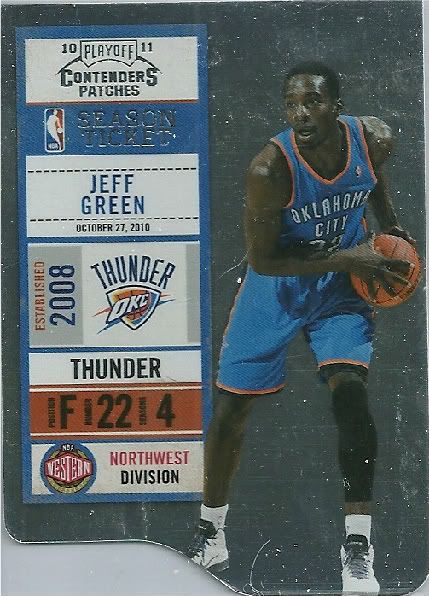 We pulled 2 Season Ticket inserts. The Jeff Green is numbered out of 299 and the Al Thornton is numbered out of 99. Both cards have a silver foil design and are diecuts.
Rookie of the Year Contenders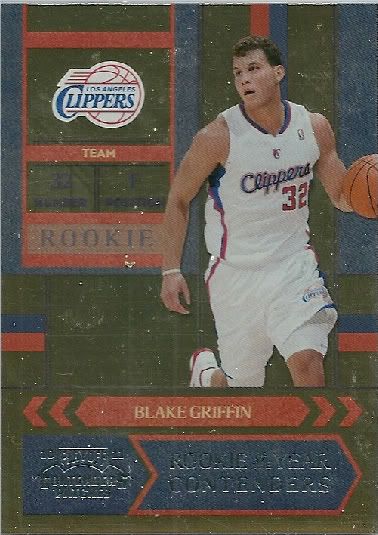 We pulled 2 Rookie of the Year Contenders inserts of Blake Griffin and Evan Turner. The inserts have a good and black design which comes off very well.
One-Two Punch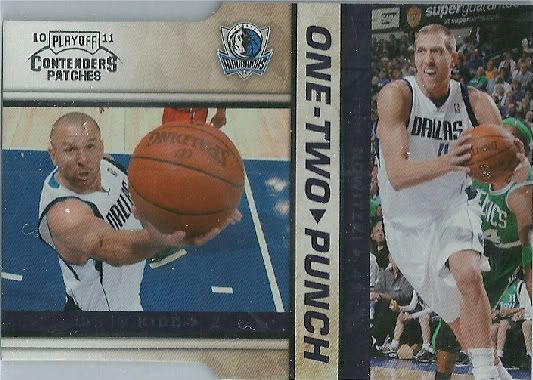 We pulled 4 One-Two Punch inserts including 3 regular inserts of LeBron James/Dwayne Wade, Amare Stoudemire/Toney Douglas, and Chris Paul/Emeka Okafor. Our one diecut insert was of Dirk Nowitzki/Jason Kidd and is numbered out of 299. These inserts feature two of the teams top players.
Place in History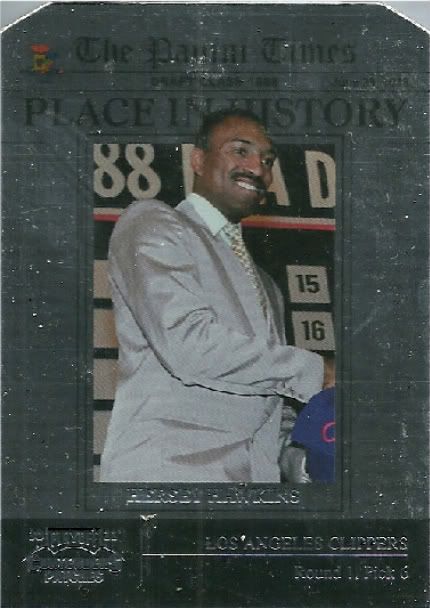 We pulled 4 Place in History inserts including 3 regular inserts of Kobe Bryant, Shawn Marion, and Chauncey Billups. Our diecut insert was of Hersey Hawkins and is numbered out of 299. These inserts are from past drafts and feature the players from the team they were originally drafted by.
Starting Blocks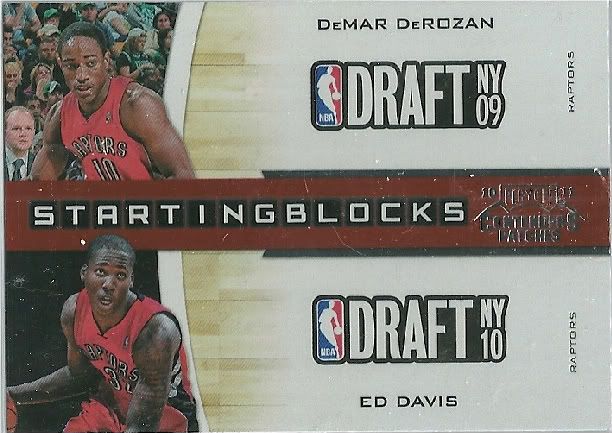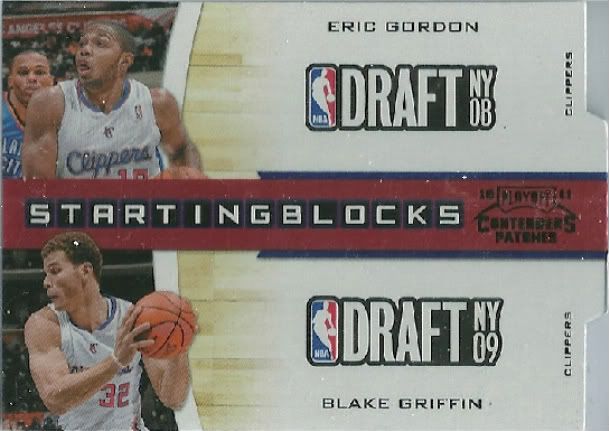 We pulled 5 Starting Blocks inserts including 4 regular inserts of DeMar DeRozan/Ed Davis, Danilo Gallinari/Toney Douglas, Jeremy Evans/Gordon Hayward, and Brook Lopez/Damion James. Our diecut insert was of Eric Gordon/Blake Griffin and is numbered out of 49. These cards feature two players on a team that are considered to be the players the team will build around.
Autographs Patches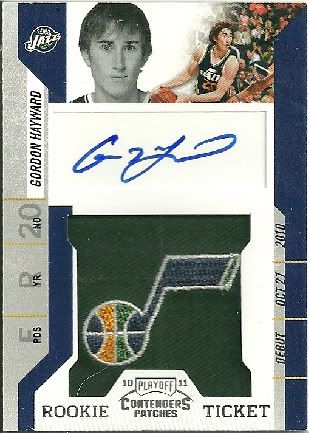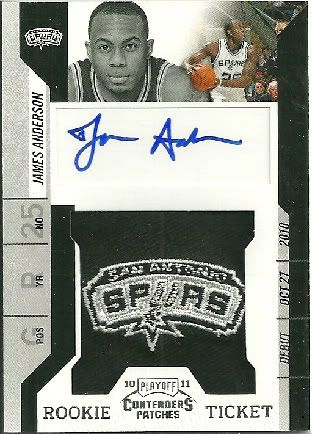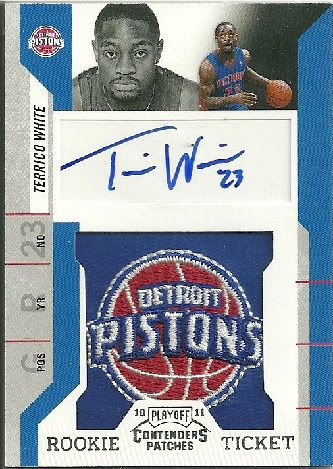 We pulled 4 Autograph Patches of Jeremy Evans, Terrico White, James Anderson, and Gordon Hayward. These cards are not numbered and the logo patches are manufactured. The autographs are on card signatures.
Final Thoughts
Panini did a great job with the base set and made it easy to build wth only 100 cards. The base cards are great to get signed in person or for TTM autograph requests. The various inserts were also done very well with some great innovative designs. I like the Place in History inserts as it shows players on teams that originally drafted them. Seeing Kobe Bryant with the Charlotte Hornet team name on the card is a nice touch. When it comes to the autographs, I could have done without the manufactured patches. The use of on card autographs is a good selling point that most collectors would agree with. Contenders has always been a set that was loved for the value of the autographs and this product is a step in the right direction.
Product Rating
• Value = 4
• Innovation = 5
• Fun and Experience = 5
• Rebuy Value = 3
I rate this product a "B" for Panini!
NPN:
NPN 2010-11 Contenders Patches Basketball
2300 E. Randol Mill
Arlington, TX 76011-6333
NPN is open only to U.S./Canadian (except Quebec) residents and submissions must be sent by May 4, 2011. Requests are limited to two per household. The skill test question for Canadian residents is as follows: 174 + 515 / 225 x 990 - 870 = ?
I would like to thank Panini and Card Collectors World for giving me the chance to review this new product.
Support the sponsors that support Card Collectors World!