A couple of returns in recently....
Warrick Dunn
C/O Warrick Dunn Family Foundation in 28 days and signed 3/6
Cool success from one of the more underrated RB's of the 2000's. He has done a lot of charity work off the field and its really cool to see for once. He also enclosed a letter requesting $28.00 per signature for future requests.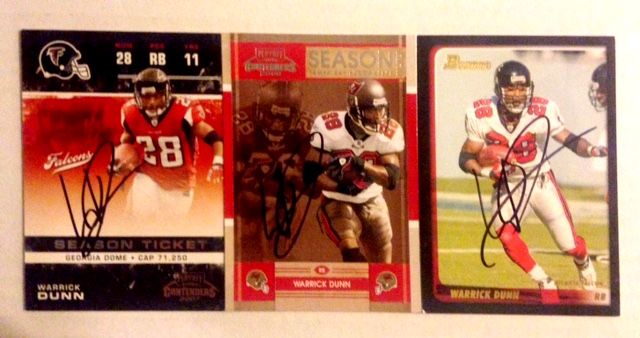 Brian Campbell
C/O Home Address in 99 days and signed 3/3
A nice return for my Blackhawks collection. He was a key cog in the Blackhawks Stanley Cup run in 2010 and has been a key contributer for an up and coming Florida Panthers team.
Melvin Guillard
C/O First Round Management in 164 days and signed 6/6
Finally got a success after sending to him a couple of times in the past. Unfortunately, he signed the cards in a beat silver pen but Im just glad to get a return and its a nice addition to my 2011 Moment of Truth Set.